---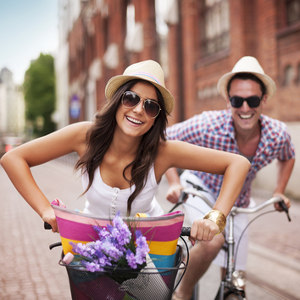 Over time, it's inevitable that most relationships will go stale. There are a few ways that you can break out of this rut, though. Follow these tips for rising above the dreaded relationship rut by bringing the fun and excitement back into your partnership.
Make a Romantic Gesture
One of the best ways to break free of the relationship rut is to surprise your partner with a romantic gesture. This doesn't have to be extravagant or expensive, but it should be thoughtful. Buy flowers, prepare your partner's favorite meal, and have a surprise dinner by candlelight. Taking the time to make thoughtful and romantic gestures can go a long way in keeping the spark alive in your relationship. Try talking to a love psychic if you need help coming up with romantic ideas.
Enjoy a Getaway
If you don't have the budget to go somewhere warm and exotic with your partner, there are other ways to take a break from your routine. Getting away from your normal environment can be enough to rekindle the passion in your relationship and reconnect with your partner. Try taking a drive to the country or visiting a quaint town nearby if you can't get away for a long weekend. Taking the time to explore another place alone together gives you the chance to get away from distractions and focus on one another.
Go On a First Date
It may seem silly, but going on a first date all over again can be a lot of fun and can remind you why you fell in love with your partner in the first place. Prepare for your first date like you would've the first time around, whether this means buying a new outfit, choosing a location that will impress your date, or coming up with a unique and unusual idea for your outing. During your date, pretend that you don't know much about one another yet, ask questions, and flirt like you did when you first met.
Be Spontaneous
Hop aboard a train, bus, or car and go somewhere without planning ahead. Do something new, even if it is just spontaneously visiting that art exhibit at the nearby gallery you've both been wanting to see or lunching at a neighborhood cafe you've been meaning to try. Doing something new can be exciting, even if the activity is not extravagant, and being impulsive can bring life to your relationship. If you need help with ideas, talk to a live psychic about ways to be spontaneous with your partner.
Share an Interest
When things get stale, try introducing your mate to an interest of yours. If you love baseball and she doesn't know much about it, surprise her with tickets to a baseball game. If you love sushi and your partner has never tried it before, take him to dinner at your favorite Japanese restaurant and sample the menu. Sharing interests is a romantic way to bond and keep the spark in your relationship.
If you find yourself in a relationship rut, it doesn't have to stay that way. Try these ideas for getting you and your partner out of the rut and back into the groove of being in love.
Share This Page
---
Leave A Comment
You must be logged in to leave a comment. click here to login
Comments