---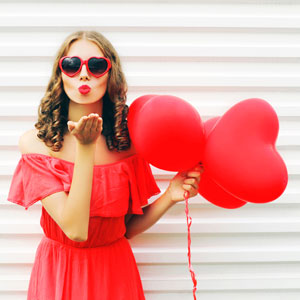 Valentine's Day often seems like a holiday that's only for lovers and those who want to couple up. If you're flying solo on February 14th, you still have plenty to celebrate. Follow these five tips for being single on February 14th and look forward to a day filled with love.
1. Mix up Your Self-Care Routine
If you've never taken the time to develop a self-care routine or if your usual methods could use an upgrade, Valentine's Day is the perfect time to show yourself some love. Though everyone's routine is different, yours could include buying a bouquet of flowers regularly, making time for a weekly bubble bath, enjoying an insightful psychic chat, or planning your annual garden.
2. Lift Yourself Up
When you're constantly surrounded by people extolling the virtues of their partners, you might start to feel a little dejected. Remember that you know your good qualities and amazing accomplishments better than anyone else does. After all, you live with them every day. Take some time to write down the great things you've done and the achievements that make you most proud. Keep them handy so you can remind yourself of your fabulous qualities whenever you want.
3. Take Yourself Out on a Date
Who says you need a partner to go out on a date? Valentine's Day is great for taking yourself out for your favorite meal or to that hot new restaurant everyone's been talking about. You might even get to snag a coveted seat with a fantastic view of the kitchen or garner a little extra attention from the waitstaff. You can even treat yourself to the most indulgent dessert or a second glass of wine as you people-watch or get engrossed in a new book.
4. Splurge on Yourself
If you usually take a practical approach to self-care, think about splurging on Valentine's Day. Is your usual spa buddy always too busy to spend the day getting pampered? Go for a full-day session that's all about you. Have you always wanted to take a Thai cooking class but never wanted to spend the money? Do it for yourself. Have you been waiting for the perfect partner to travel with? Book that overseas trip you've been dreaming about, knowing that you're your own best travel partner.
5. Share the Love
While self-care should be a key component of any Valentine's Day celebration, there's no need to keep all the love to yourself. Instead, spread it around by doing something nice for someone else. Cook a meal for your grandparent or send a care package to a friend who's going through a rough patch. You could even volunteer at your local animal shelter and enjoy giving back while you're showered in puppy and kitten love.
Whether you're perfectly happy flying solo or you have your eye on someone special, a love tarot card reading can help determine what the future holds for your love life. Consider adding a tarot card session to your Valentine's Day celebration and learn more about how and where to channel your romantic energy.
Share This Page
---
Leave A Comment
You must be logged in to leave a comment. click here to login
Comments