---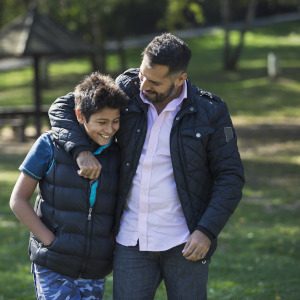 A father can give you guidance, strength, and good advice. Sometimes, they don't even have to be real to influence your life. Take a look at some of the top real and fictional dads and the impact they have on their children and your own life.
1. Hugh Jackman
Hugh Jackman is an Australian actor, producer, and singer who has won international recognition and a number of awards for his roles in various films. However, what makes him an even better man is the obvious love he has for his two adopted children, Oscar and Ava. Jackman is routinely photographed sliding down playground slides, having snowball fights, and generally having a good time with his kids.
2. Jamie Oliver
Not only does chef and restaurateur Jamie Oliver want the best for his kids, but he also wants the best for your children. In his television show "Food Revolution," he travels across the United States and helps people make the change to healthier lives. Plus, he and his wife decided to get incredibly creative when naming their children. His girls are Poppy Honey Rosie, Daisy Boo Pamela, and Petal Blossom Rainbow, and his son is Buddy Bear Maurice.
3. Professor Henry Jones
Professor Henry Jones, played by Sean Connery, has a slightly distant relationship with son, Indiana Jones. However, in "Indiana Jones and the Last Crusade," he puts all that aside to protect his son and fight alongside him. The two also have some incredible father-son bonding time as they fight Nazis and search for the Holy Grail.
4. Seal
Even though Seal and his former wife Heidi Klum are no longer in a relationship, they still spend quality time together as a family for their children. Seal and Heidi have three kids together — Henry, Johan, and Lou. Seal also adopted Leni, who is Heidi's daughter from a previous marriage. When you see Seal out with his children, it's obvious they benefit from a close relationship with their father.
5. Mufasa
Mufasa from "The Lion King" was a fair and wise ruler who loved his cub Simba very much, which is why there's never a dry eye when he dies. Yet, his memory lives on with his loved ones, and his spirit manifests in the sunlight and clouds to help guide Simba on his path as the rightful king. If you have a house cat that reminds you a lot of the strong and courageous Mufasa, a pet psychic can help you connect so you can better understand your cat.
6. Matthew McConaughey
Actor Matthew McConaughey works hard to show his two sons, Levi and Livingston, and daughter, Vida, what it means to be a good person. Some of his charitable acts include rescuing several pets that were stranded after Hurricane Katrina hit New Orleans and creating a foundation that's dedicated to helping teenagers make healthy choices and lead an active life.
7. Clark Griswold
In the "National Lampoon" film series, nothing ever seems to go right for Clark Griswold, played by Chevy Chase. Yet, even though family vacations and holiday traditions never go as planned, Griswold still manages to stay positive and keep his carefree and optimistic nature going.
8. Daniel Hillard
While Daniel Hillard, who was played by Robin Williams in "Mrs. Doubtfire," might have crossed a few lines in his attempt to spend more time with his children after he and his wife separated, he's still a loving and devoted father. After he disguises himself as a Scottish nanny to help take care of his kids, the family begins to thrive, and the kids start doing better in school. Even Hillard starts to improve and grow as he learns new skills to keep up with his false identity.
9. Brad Paisley
Country music singer and songwriter Brad Paisley proves that sometimes you need to have a sense of humor when you're a dad. When his nervous wife had to go out of town and leave her baby with Brad, Paisley said he purchased a doll and dressed it up to look like their infant son, Huck. He had the doll partake in different dangerous situations, such as riding on a horse. Luckily for Paisley, he decided to show his wife the videos after she came home, so she couldn't get too upset with him.
10. David Beckham
Retired soccer star David Beckham isn't afraid to show the world what a loving and devoted father he is. In fact, he has the names of his four children — Brooklyn, Romeo, Harper, and Cruz — tattooed on his back. Beckham also showed what a good dad he is when he went on Instagram to document his journey building a 4,000-piece LEGO castle for his kids. If you don't think this is a difficult task, consider the fact that the assembly manual for the castle is nearly 500 pages long.
11. John Legend
John Legend's voice and award-winning songs are instantly recognizable. Another thing that's readily apparent about Legend is that he's a completely devoted father to his daughter, Luna, and son, Miles. Legend says he wants to raise his children so that they turn out kind and smart. If you're looking to find someone like Legend to start your own family, consider a love tarot card reading to gain some more insight into your love life.
12. Mike Brady
Although Mike Brady, who was portrayed by Robert Reed in "The Brady Bunch," was a little strait-laced, he still worked hard to smooth over the rough patches of his blended family. He also had a strong sense of ethics and personal integrity. In fact, he was so well respected by his family, his local newspaper named him "Father of the Year" after his stepdaughter Marcia submitted an essay in his honor.
These real and fictional dads show what it really means to be a father. Now you can use their dedication and relationships with their children to guide your own parenting efforts.
Share This Page
---
Leave A Comment
You must be logged in to leave a comment. click here to login
Comments