---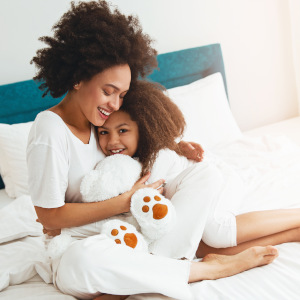 With their unconditional love, words of advice, and thoughtful actions, mothers have a major impact on the way we grow up. Below is a list of famous moms who are both real and fictional, and an idea about how they've influenced our lives.
Marie Curie
Marie Curie was a trailblazer during her time. She was one of the very few female scientists with any notoriety during the early 20th century. Plus, not only was she the first woman to win a Nobel Prize, but she's also one of four people to win two Nobel Prizes. She managed to do all of this as a single mother raising two daughters. Curie then witnessed her daughter, Irene, and her husband co-win a Nobel Prize in chemistry.
J.K. Rowling
J.K. Rowling is best known as the acclaimed author of the "Harry Potter" series, which is the best selling book series in history. Even more impressively, she wrote the first book as a single mother struggling with depression and receiving government assistance to get by. Today Rowling is the president of Gingerbread, an organization that helps single parents and their children get access to the programs and resources they need to succeed. If you are a writer and need help focusing on a great idea for a story, a psychic online chat can give you some guidance.
Lucille Ball
Lucille Ball was always working to challenge social conventions. Not only did she co-create and star in one of the most popular sitcoms in television history, "I Love Lucy," but she also became the first woman to head a major television studio.
She welcomed her first child just before she turned 40, in the same year that "I Love Lucy" premiered. When she was expecting her second child, she decided to write it into the show. Even though studio executives pushed back because they thought it was too controversial, she persisted and became one of the first actresses to show her pregnancy on a major network show.
Abigail Adams
Abigail Adams was the wife of President John Adams and the second First Lady of the United States. President Adams was often away from home during the American Revolution and while running the country. Abigail single-handedly wrote letters in support of the abolition of slavery and equal rights for women, ran their farm, and educated their five children, including future president John Quincy Adams.
Angelina Jolie
Angelina Jolie first got involved with humanitarian work with refugees when she was filming "Lara Croft: Tomb Raider" in Cambodia. She later adopted her first son from the country. She then adopted children from Vietnam and Ethiopia, and had three biological children with Brad Pitt. Through all her work as an actress and Goodwill Ambassador of the UN Refugee Agency, she always makes sure to spend as much time with her children as possible.
Harriette Winslow
Portrayed by Jo Marie Payton in "Family Matters," Harriette Winslow was a cool-headed working mom who exemplified compassion, integrity, and resilience. She went from an elevator operator, to head of security at a newspaper, and then head of sales at a department store. At home, she was supportive of her children and always kind to surrogate son and neighbor, Steve Urkel.
Sojourner Truth
In 1826, Sojourner Truth escaped slavery with her baby daughter. Soon after her escape, she learned that a man in Alabama had illegally purchased her 5-year-old son, Peter. Truth then raised money for a lawyer, sued in court, and successfully won her case to get Peter out of slavery. At the time, she became the first African American woman to win such a case against a white man. She later went on to become a preacher and spoke out in favor of the abolition of slavery and women's suffrage.
Carol Foster-Lambert
Carol Foster-Lambert, played by Suzanne Somers in the sitcom "Step by Step," was a widowed salon owner who met and married her second husband while on vacation. She balanced all the duties of running her own salon while also working with her new husband to smooth the bumpy relationships of the blended family and offer advice to her children and stepchildren. If you're looking for a second chance at love like Carol found, consider a love tarot reading.
Hoelun
Hoelun survived a kidnapping, widowhood, and becoming an outcast to raise the infamous Genghis Khan. On the wedding day of her first marriage, the chief of a minor clan kidnapped her. She had five children with her captor, including Genghis Khan. When her captor died, she and her children were disowned the clan and forced to survive on their own.
Even though Khan grew up to rule the largest empire in history, Hoelun could still put him in his place. When she found out Khan planned to execute his brother for treason, she sharply criticized him and forced Khan to stay the execution.
Elizabeth Cady Stanton
Not only did Elizabeth Cady Stanton help lead the women's suffrage and abolitionist movements in the United States, but she also did it while raising her seven children. Stanton worked with Susan B. Anthony to create the National Woman Suffrage Association. Along with giving speeches and writing articles about universal suffrage, Stanton also pushed for education for girls. Although she wasn't able to attend a formal college, her own daughters were able to attend Vassar College and Columbia University.
Nancy Edison
The youngest of Nancy Edison's seven children was an inventor and businessman you might have heard of before: Thomas Edison. When one of Thomas' teachers declared that he was too incompetent to continue his education, Nancy took it upon herself to homeschool him. Thomas went on to say that his mother was so sure of him that he knew he had to work hard so he didn't disappoint her.
These famous mothers show the far-reaching impact they have on not only the lives of their children, but in our own lives as well.
Share This Page
---
Leave A Comment
You must be logged in to leave a comment. click here to login
Comments