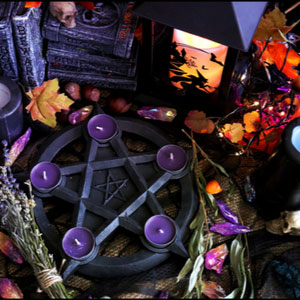 When Halloween is approaching, people start thinking of bubbling cauldrons, pumpkins, ghosts and more, oh my! Social media is chock full of pictures of spooky decorations, themed food, and of course wild costumes so we can live out our fantasy selves. For some, the interest never goes much deeper than indulging our inner child with candy and fake skulls. For others, the pull towards pentacles and dark cloaks leads to something more. Those curious hearts may learn that witchcraft isn't just Hollywood glitz and come across the word "Wicca."
The History of Wicca
In many teachings, Wicca is an Anglo-Saxon term loosely referring to shape shifting and it reappeared in the modern era of the Craft. It was based on magickal* and occult practices from around the world. Today's "Baby Witches" (a popular term on-line for those who are new to the Craft) owe a lot to Wicca, as it forms the basis of many modern practices. While there are many types of ways to practice witchcraft, Wicca is a religious practice that often incorporates witchcraft and magick* at its heart.
The same way you can find recipes for finger cookies online, you can find instructions for potions and spells too. But it's important to know that Wicca is more than those online spells too. It is a system of belief, of walking with the natural world, that can add beauty and meaning to your life.
The Wheel of the Year
Let's lift the Veil and shed a little moonlight on one of the most basic aspects of Wiccan practice, honoring the Witches' Wheel, also known as the Wheel of the Year. The Wheel is based on the cycle of the sun and is our calendar. It is shaped like a circle with different sections representing our holidays.
If you look at the image below, you'll get a very simplified version of what our Wheel looks like. All eight religious observances mentioned in the image are referred to as either Sabbets (the historic name) or Sabbats (the modern name). Samhain, Candlemas (also known as Imbolc), Beltane, and Lughnasadh (also known as Lammas) are the Great Sabbats and always fall on the same dates. Samhain is on October 31st. Candlemas is on February 2nd. Beltane is May 1st. And Lammas is August 1st.
The equinoxes and solstices are the Lesser Sabbats. An equinox occurs when the hours of day and night exist in perfect balance. A solstice occurs when either day or night are at it's peak. The longest day is the summer solstice. The longest night is the winter solstice. Some traditions don't have any special names for them (other than solstices and equinoxes), but others do. You will sometimes see the winter solstice referred to as Yule, the spring equinox as Ostara, the summer solstice as Litha, and the fall equinox as Mabon or Harvest Home.
Since those are based on astrological timing, the dates for those can vary. Historically speaking, Wiccans observed the spring equinox between March 21 - 23, the fall equinox between September 21 - 23, the summer solstice between June 21 - 23, and the winter solstice between December 21 - 23. But nowadays you'll sometimes see variation within the range given too, just as in our graphic below, which lists the solstices' and equinoxes' range between the 20 - 22.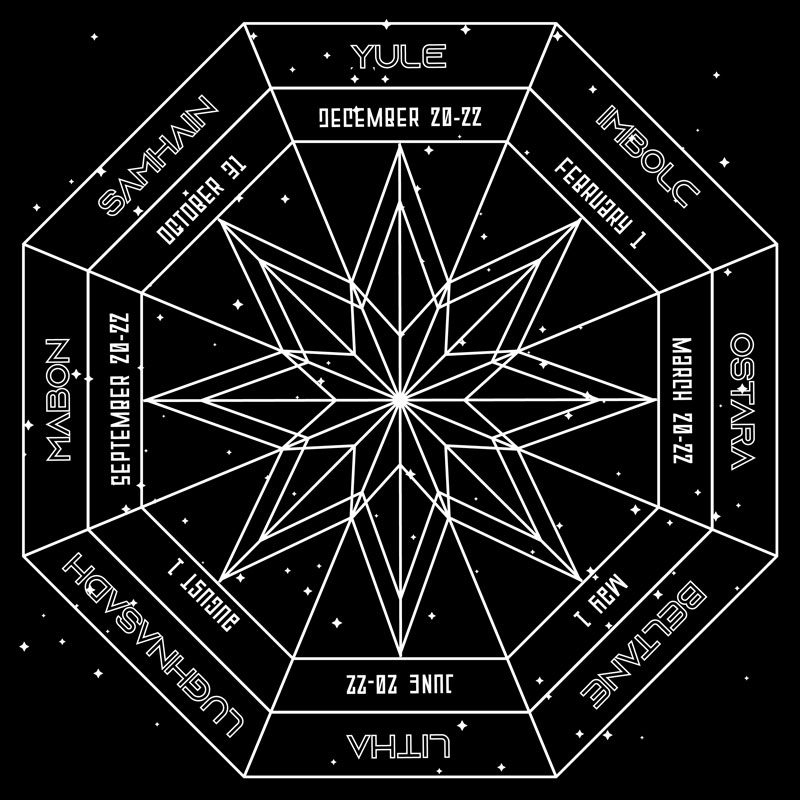 Honoring the Moon
In addition to the Sabbats Wiccans honor the cycle of the moon. The full moon, new moon and all the phases in between each hold a special meaning. All phases of moon can be worked with by a witch trained in the Craft, depending on his or her purpose. Any ritual that works with the moon is called an Esbat.
The days of the week also have special significance for us, with each day being linked to the seven most important celestial bodies in antiquity. The moon is linked to Monday. Mars is linked to Tuesday. Mercury is linked to Wednesday. Jupiter is linked to Thursday. Venus is linked to Friday. Saturn is linked to Saturday. And the Sun is linked to Sunday.
Wiccans who belong to specific traditions or covens often have special rituals for their Esbats and Sabats. Many of these are oath-bound, that is they are only shared with people who have been formally initiated into a group. But you will often find eclectic Wiccans who create their own traditions based on books, online articles, and personal gnosis as well.
October 31st - Samhain
Samhain is the greatest Sabbat in Wicca. It is the last the day of the old year. The new year begins on Nov 1st. While admittedly Halloween can be a lot of fun, Samhain is a very special and sacred time for us. This is a time of silence with respect for our deceased ancestors. It is not unusual for covens to prepare for weeks for this Sabbat.
This is a very small peek at the most basic of basic aspects of Wicca. I can't address it all here. To get a true understanding of it does require serious effort and dedication, plus a commitment to constantly seek deeper knowledge of oneself and one's understanding of the Craft. But for those, like me, who have made that commitment, the effort is worth it. Wicca is very much an Earth-based practice. Learning how to honor and acknowledge our Sabbats and Esbats is an important part of understanding our place in the whole.
Have fun acknowledging the Wheel this year. Perhaps start your own family tradition by creating your own decorations and making your favorite foods. I hope that you enjoy the beauty of this season as nature pulls our Wheel daily from one cycle to the next.
Note: *Wiccans and other magickal practitioners will often spell magick with a "k" to differentiate what they do from slight-of-hand or stage magic.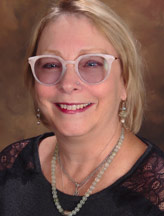 Get a Reading with Willow x8048
Willow is an initiated Witch/Wiccan for over 30+ years. A licensed minister, a High Priestess and teacher of the Craft, at 71 years old now, Willow has been a professional reader, psychic, medium (light and deep trace) for over 54 years. Reiki certified in the Usui Shiki Ryoho system for over 20 years, Willow holds a Law Enforcement technology degree and has been involved with Paranormal Investigations for nearly 50 years. She loves all forms of divination along with dream interpretation. No books, no social media, to manifest her gifts, she developed her own process, except in the Craft when she worked with her Elders.