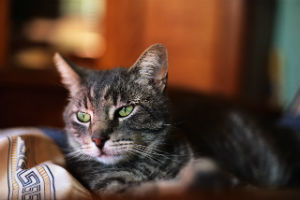 Animals are such a wonderful addition to our lives and can bring so much joy! From their cuddly greetings when we walk in the door, to their playful romps when we take them for walks, there's no doubt about it: Pets are Fabulous! To celebrate the lovely and lovable animals in our lives, here are some fun facts:

Dogs Only Sweat from their Paws
To release heat built up in these canine creatures, dogs pant instead of sweat.

Dogs express with their Ears
There are about 100 different facial expressions, most made with their ears!

Cats have fingerprints in their nose
A cat's nose pad has a unique pattern, not much different from a human's fingerprint.

Cats are super flexible
With more than 230 bones (humans only have 206!) cats can bend and stretch into tiny spaces.

Cats have Kindles
A bunch of kittens is called a kindle, while a clowder is the name for a pack of adult cats.

Iguanas under water
Iguanas can hold their breath for up to 30 minutes!
Want to dig deeper into the moods, behaviors, and expressions of the animals in your life? Talk to a Pet Psychic Today!