Seven of Pentacles
---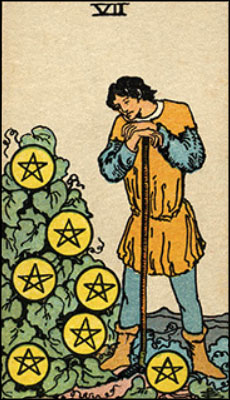 Meaning of the Seven of Pentacles Tarot Card
A young person leans on a garden tool while looking at their garden. It looks like they may have a good harvest, but most of the fruits are still too young to see how much can be gathered.
Seven of Pentacles Tarot Card Upright Meaning
Some things take time to grow to their full potential. The Seven of Pentacles might mean that you are frustrated with how things are going with a long-term project. Take heart, things are going in the right direction. You may see some small signs of positive growth. But you won't get to where you want to be if you quit now. Stay the course, work hard, and you will be rewarded in time.
7 of Pentacles Upright Keywords: patience, don't quit, small victories, encouraging signs, work left to do
Seven of Pentacles Tarot Card Reversed Meaning
It's wise to know when you've over-invested yourself in something that will never give back. When you see the Seven of Pentacles reversed, it's a warning that long-term projects are not going to pan out without some serious intervention (and losses may be involved). Take a look at the surrounding cards to see if it's worth continuing to put your resources (time, money, etc.) into an endeavor or if the healthiest thing would be walking away.
7 of Pentacles Reversed Keywords: cut your losses, money pits, get out while you can, quitting