King of Cups
---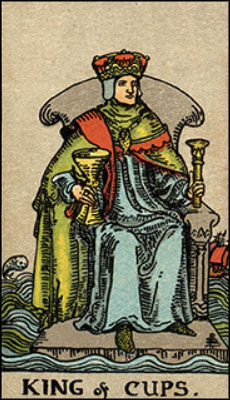 The King of Cups Meaning
A man holding a goblet sits on a throne. Images of dolphins, sea horses, and seashells might be worked into the design of the throne or his clothing. The background is usually the ocean or other active body of water. The King of Cups is also known as the King of Hearts.
King of Cups Upright Meaning
This card usually indicates a man or someone with a masculine outlook who is very in tune with his emotions. He is a leader in the same way all upright kings are leaders, but he inspires others through kindness or being a comforting presence. He will always choose diplomacy over force if that is an option but will not hesitate in defense of those he loves or calls family. The King of Cups is a natural at identifying someone's innate gifts and championing them so those he cares for can become their best selves. Like all other members of this court, he may be a Cancer, Scorpio, or Pisces.
King of Cups Upright Keywords: diplomat, lover not a fighter, inspiring, leading by love
King of Cups Reversed Meaning
The King of Cups reversed is still an expert at reading emotions but uses that knowledge for his selfish ends. He may use love-bombing or other forms of emotional manipulation to get you to trust him. He may be a narcissist at his core—only able to truly love himself. Watch out for emotional abuse when you see this card.
King of Cups Reversed Keywords: emotional manipulation, emotional abuse, narcissist, abuse of trust