Card 19: The Sun Tarot Card
---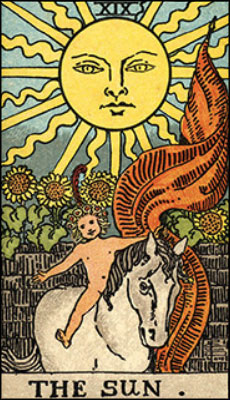 The Sun Tarot Card Meaning
This card often features an image of the sun, with its golden rays shining down on a happy child or infant. There are usually a lot of reds and golds incorporated into the color scheme of this card.
The Sun Upright Meaning
Think about all the things that come to mind when you hear someone described as "sunny". That's exactly the energy of this card. Seeing this card in a reading indicates upbeat feelings, enthusiasm for life, and infectious optimism. It lets you know things are headed in a positive direction, and you will be coming out on top. It also may mean getting public recognition for a job well done.
The Sun Upright Keywords: success, victory, ready to branch out, joy, vitality, your time to shine
The Sun Reversed Meaning
The Sun reversed shows the dark side of sunshine. You can be blinded by too much light and miss a lot of what is really going on. This card can indicate false positivity, or people putting up a front of perfection but being burned out or depressed when no one is looking. It also could indicate loneliness or lack of a true support system, even when the person in question seems to have it all. The Stepford Wives are a perfect example of the energy of the Sun reversed.
The Sun Reversed Keywords: Burned out, false light, depression, fake positivity, loneliness
Learn More About What The Sun Tarot Card Means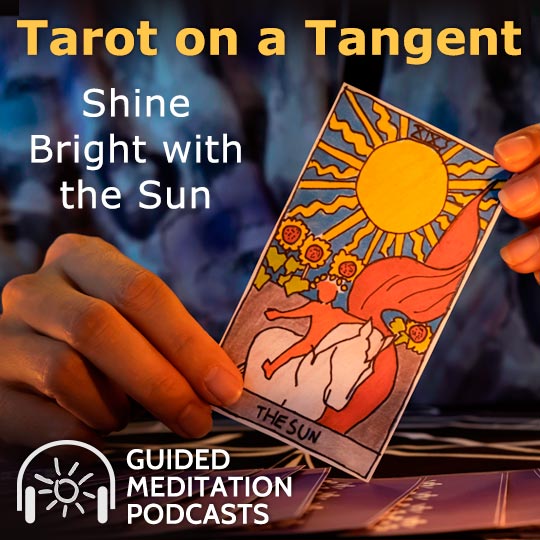 Learn the symbology behind The Sun Tarot Card and why it is one of the most positive cards in the tarot deck with this in-depth meditation podcast from Psychic Morgan.