Four of Swords
---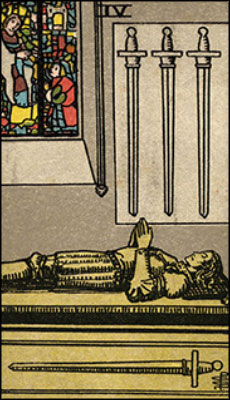 The Four of Swords Meaning
A knight rests on a bed. His hands are often folded in prayer and there may be things in the background to indicate he is resting in a holy place (stained glass window, religious symbols).
Four of Swords Tarot Card Upright Meaning
Seeing the Four of Swords in a reading indicates a need to take a break. You've been going at it hard, but you can't keep up the pace forever. Taking time to care for yourself isn't a luxury. As the holy imagery indicates, rest is a sacred and necessary thing. Treat it as a priority.
4 of Swords Upright Keywords: self-care, sanctuary, catching your breath, prioritize your mental health
Four of Swords Reversed Meaning
If the Four of Swords reversed comes up in a reading it could be a literal wake-up call to stop procrastinating and get going. This may also mean getting a second wind to complete a project that you had become disenchanted with. Alternatively, this card might be asking you to be honest with yourself about your current mental/ emotional/ spiritual state. If you are ready to jump back into things, do so. But trust your intuition if you still need more TLC. You don't want to go full throttle into anything if you still need to recuperate. The Four of Swords reversed might also hint at some restlessness during a forced period of rest.
4 of Swords Reversed Keywords: back to work, second wind, be honest about your limits, unable to relax