Tarot Decks for Beginners
---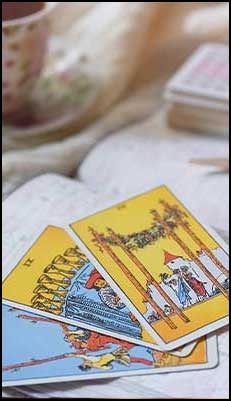 How to Choose a Tarot Deck
If you've browsed a bookstore, a metaphysical shop, or even an on-line store, you've seen that there are a wide variety of decks available. However there is no consensus on what the best tarot deck is. That being said, there are a few things to keep in mind when considering tarot decks for beginners.
First, in order to be a true, full tarot deck it has to have both the Major and Minor Arcana, with the Minor Arcana further divided into four suits. Sometimes a tarot deck might have more than 78 cards because the creator decided to include a variation of one card (multiple versions of The Lovers for example) to better reflect the users of the deck or because they felt an additional card was needed to complete the feel of the deck. One of the most famous examples of this is the Happy Squirrel card, which started appearing in several decks after the airing of an episode of the Simpsons featuring a tarot reading. The card had never existed prior to that episode.
In general, if a deck has less than 78 cards or differs too much from the standard 22 Majors/ 56 Minors with four suits format, then it is an oracle deck not a tarot deck. Oracle decks are wonderful tools for help with guidance and developing your intuition too, but they have their own set of meanings and symbols that vary from deck to deck.
You can find decks that are Major Arcana only (22 cards), which can be a great introduction to the tarot, and very useful even when you are a seasoned tarot reader depending on the type of reading you are doing. But if you want to fully explore the tarot, you will want to select one with both the majors and minors present.
Main styles of Tarot Decks
There are three main styles of tarot decks. Most of the tarot decks available are a variation of one of these three, though decks that combine elements of two or even all three do exist.
The first type is the Tarot of Marseilles, also called the Marseilles Tarot. It is the oldest style of deck, with the first modern version of it printed in the early 1700's. The distinguishing characteristic of this deck is that the minors have a uniformly abstract depiction. It isn't too far off from the way a standard deck of playing cards looks, but with a lot more abstract ornamentation surrounding the suit's symbols. Because of this, it might be a more challenging deck to learn from if you are a beginner. But with a little patience, you can learn to understand their meanings.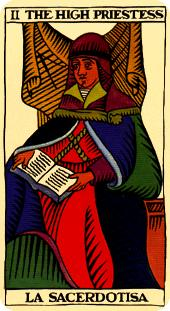 Marseilles Deck
Major Arcana - 2: The High Priestess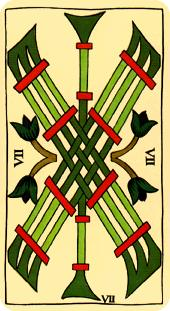 Marseilles Deck
Minor Arcana - 7 of Wands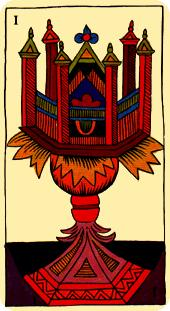 Marseilles Deck
Minor Arcana - Ace of Cups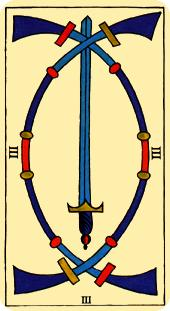 Marseilles Deck
Minor Arcana - 3 of Swords
The second type is the inspiration behind the majority of the tarot decks available today, the Rider-Waite-Smith. Printed by the Rider company in 1910, the cards were illustrated by Patricia Coleman Smith, following the direction of Arthur Edward Waite, who was both a mystic and a scholar. If you've seen a tarot deck in a movie or television show, chances are good that the deck depicted was the Rider-Waite-Smith, that's how iconic its imagery is. Many modern decks are based around the imagery and meaning of this deck, making it ideal as a starter deck. If you get familiar with the Rider-Waite-Smith, you'll be familiar a lot of other decks out there.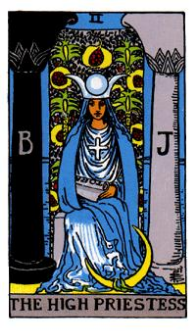 Rider Waite Deck
Major Arcana - 2: The High Priestess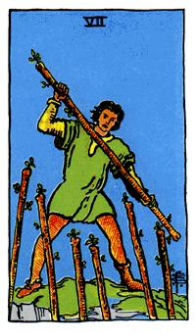 Rider Waite Deck
Minor Arcana - 7 of Wands
Rider Waite Deck
Minor Arcana - Ace of Cups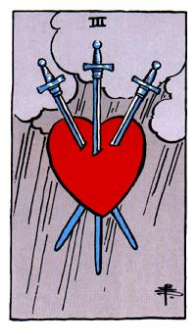 Rider Waite Deck
Minor Arcana - 3 of Swords
The third major type of tarot deck, the Thoth Tarot, was conceived by (in)famous occultist Alistair Crowley with the imagery created by Lady Freida Harris. Crowley wanted to create a deck in line with a mystic revelation he had regarding a text he later referred to as "The Book of Law." This deck is chock-full of esoteric imagery, sacred geometry, as well as references to kabbalah and numerology. The meanings of the cards are related to the ones found in the corresponding ones in the Rider-Waite-Smith, but there are differences in nuance, as well as the order of the cards, to more closely hew to Crowley's mystical vision. Starting with this deck will also give the beginner some exposure to other metaphysical topics.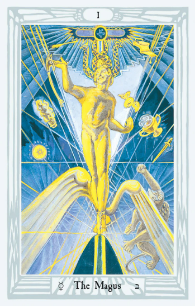 Crawley Thoth Deck
Major Arcana - 1: The Magus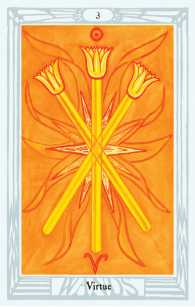 Crawley Thoth Deck
Minor Arcana - 3 of Wands
Crawley Thoth Deck
Minor Arcana - Ace of Discs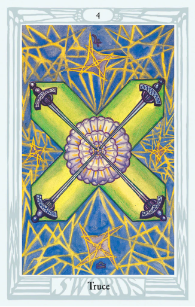 Crawley Thoth Deck
Minor Arcana - 4 of Swords
How to choose your tarot deck
Although the Rider-Waite-Smith is often said to be one of the best tarot decks for beginners (if not the best deck to start out with), not everyone resonates with the artwork or imagery in the deck. And that's OK. The best tarot decks for you are the ones that incorporate the classic meanings, whose imagery/ symbolism connects with you clearly, on both and artistic and spiritual level. One person's perfect deck might be another person's pack of interesting but otherwise unengaging pictures.
First, figure out what sort of imagery engages you. Are you drawn towards the classic feel of the Rider-Waite-Smith or the Tarot de Marseilles? Do you like images with a moodier edge to them or do you prefer something softer? Does the mythology of a particular time and place call to you? Or do you want something that reflects a more modern era, with more diverse depictions in the imagery? Do a little research, both online and in a store to see what the cards look like. Take note of images that really connect with you and read up on the reviews for the decks that call to you the strongest. It's probably a good idea to avoid decks that have multiple reviews saying the majority of the imagery is unconnected to any of the classic meanings of the cards. Those will be very challenging for a beginner. Narrow your choices based on your research.
How to pick the best tarot deck once you've narrowed things down? Trust your intuition! After all, you will be working heavily with your intuition when use the cards. Trust your instincts on what feels like a good match to you. Also remember that while it's best to stick to one deck while you are learning, people often do pick up multiple decks eventually.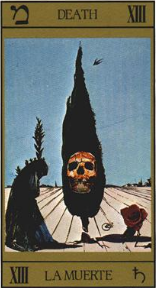 Salvador Dali Deck
Major Arcana - 13: Death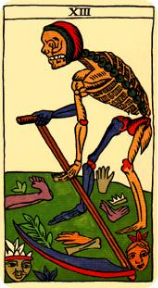 Marsailles Deck
Major Arcana - 13: Death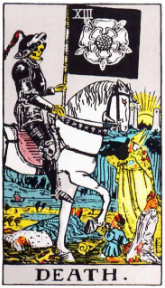 Rider Waite Deck
Major Arcana - 13: Death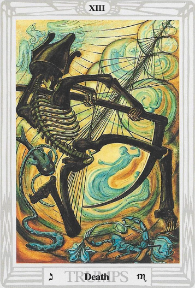 Crawley Thoth Deck
Major Arcana - 13: Death