Eight of Pentacles
---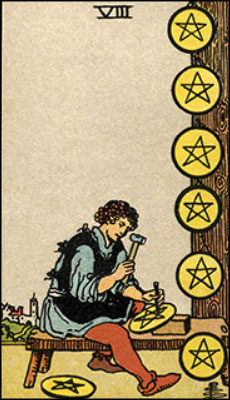 Meaning of the Eight of Pentacles Tarot Card
A person is hard at work on their craft. Typically, the image will imply that they are working to reproduce a copy of something else, usually the eighth in a series of pentacles.
Eight of Pentacles Tarot Card Upright Meaning
This card is closely linked to the Three of Pentacles. But while that card implies mastery of a skill, this one points to all of the practice done behind the scenes to become a master. Is there a skill you need to learn in order to reach a goal? Seeing the Eight of Pentacles in a reading lets you know that now is a good time to brush up on your knowledge. It will benefit you in the long run.
8 of Pentacles Upright Keywords: practice makes perfect, an apprentice, job training, hobbies, learn as you go
Eight of Pentacles Tarot Card Reversed Meaning
Practice isn't glamorous. The repetition involved in being good at something demands discipline. If your heart isn't truly into what you are doing, it's easy to get discouraged. It's also easy to get discouraged if you aren't learning something in a way that makes sense to you. Also, consider if it really is important for you to excel at this activity. A lot of satisfaction can be had in just enjoying an activity for its own sake. Don't put pressure on yourself to be "the best".
8 of Pentacles Reversed Keywords: heart not in it, amateurs, boredom, rote learning, unnecessary pressure