Knight of Cups
---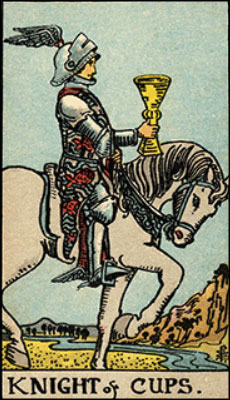 The Knight of Cups Meaning
A youth sits on horseback. He holds a chalice in front of him. In the background, you may see the ocean, a waterfall, or other active bodies of water.
Knight of Cups Upright Meaning
If pages represent children or child-like attitudes, knights are teens or young adults. Did the armor, horse, and cup make you think of one of King Arthur's knights on the quest for the Holy Grail? They should. The Knight of Cups is an idealist and hopeless romantic who seems to fall in love with people or ideas at the drop of a hat. They often wear their hearts on their sleeves. This is the sort of person who loves to sweep potential paramours off their feet with grand gestures. They may be an artist or involved with the fine arts in some way. This card may indicate a marriage proposal is likely. Like the Page of Cups, this card can also signify a Cancer, Scorpio, or Pisces.
Knight of Cups Upright Keywords: idealist, artists, romantic, proposals, emotional, ardent lovers
Knight of Cups Reversed Meaning
The Knight of Cups reversed is moody, and potentially emotionally manipulative. Something unpleasant is lurking behind all those declarations of love. There is something your lover might be keeping from you.
Knight of Cups Keywords: moody, secrets being kept, a dishonest lover, being cat-fished