Queen of Wands
---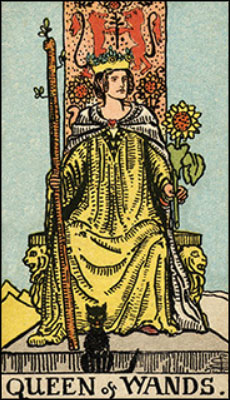 Meaning of the Queen of Wands Tarot Card
A woman, either with red hair or wearing fiery colors, is sitting on a throne. She often is wearing a crown while holding a wand or club in one hand. Although the desert background might still be there, you might have a depiction of greenery (often sunflowers) around the queen and her throne. The Queen of Wands is also known as the Queen of Clubs.
Queen of Wands Tarot Card Upright Meaning
This card often refers to a woman or someone with a femme outlook who is vivacious and outgoing. The Queen of Wands is often multitalented or the type of person who thrives when they are involved in a lot of activities and/or projects. She is always on the go and has a magnetic personality that draws lovers easily. She often acts as an inspiration to those she cares about. As with the rest of the court of Wands, this card can refer to someone who is an Aries, Leo, or Sagittarius.
Queen of Wands Upright Keywords: multitalented, popular, energized, inspiring, alluring
Queen of Wands Tarot Card Reversed Meaning
The Queen of Wands reversed is a diva who can't stand it when she isn't the center of attention. This card could indicate someone who is using charm to manipulate others. It can also represent infidelity in all its various forms. True passion could be concealed or buried in an attempt to keep up appearances.
Queen of Wands Reversed Keywords: Drama queen, diva, jealous, unfaithful, concealed passion