Page of Swords
---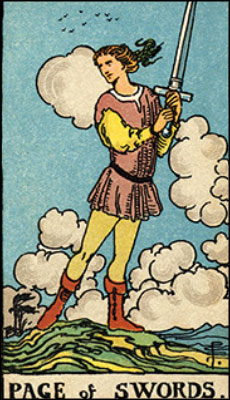 The Page of Swords Tarot Card Meaning
This card often features a child in an active stance holding a sword. There are indications in the card to suggest a strong wind is blowing.
Page of Swords Upright Meaning
Typically, seeing this card in a reading means that a child is involved. The child might be a Gemini, Libra, or Aquarius. It can also refer to a very clever or curious child. The child may also be considered gifted in some way. Seeing this card might signal the recognition of mental gifts in a person, no matter what age they are.
Page of Swords Upright Keywords: curious, little scientists, smart, cleverness
Page of Swords Reversed Meaning
The child who never stops asking why, the child who wonders what will happen if you pour all the laundry detergent in the bottle into the washing machine…these are examples of the Page of Swords reversed energy. Life isn't boring (or quiet) with them around. They sometimes have a hard time understanding acceptable boundaries in behavior and can't sit still. Focusing on things they are no natural inclination for might be a challenge. They may have some sneaky tendencies as well.
Page of Swords Keywords: hyperactive, very talkative, restless, sneaky, "mad scientist"