Queen of Pentacles
---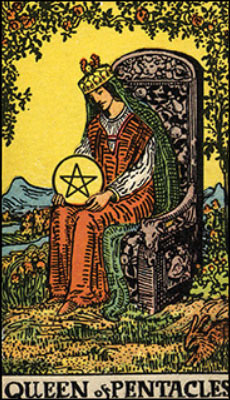 Meaning of the Queen of Pentacles Tarot Card
A richly dressed woman sits on a throne. Her clothes are elegant and earth-toned, perhaps with gold accents. She wears a crown and is surrounded by a variety of flowers in full bloom. She is also known as the Queen of Coins or the Queen of Diamonds in a regular playing deck.
Queen of Pentacles Tarot Card Upright Meaning
This card often refers to a woman or someone with a femme outlook who is very nurturing and sensible. She will often be the "mom friend" in her group, grounding others with her practical nature. The Queen of Pentacles often has a very good head for finance. She is very shrewd when it comes to bargain hunting but will never compromise on quality. She likes her little luxuries. Like others of this court, she may be a Taurus, Virgo, or Capricorn.
Queen of Pentacles Upright Keywords: sensible, pragmatic, stabilizing force, fond of the finer things
Queen of Pentacles Tarot Card Reversed Meaning
The pragmatism turns into greed for the Queen of Pentacles reversed. She may act like she is entitled to fine things while being completely unwilling to do any work for them. Often ruthless when it comes to issues of status, she will display obvious indifference to the suffering of others. She is selfish and cares only for her own comfort.
Queen of Pentacles Keywords: gold-diggers, greedy, selfish, status-obsessed