---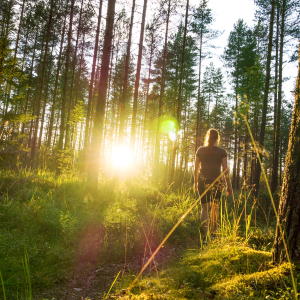 It's easy to get caught up in the bustle of your everyday responsibilities and forget to really connect with nature. If you can't remember the last time you felt soil between your fingers or toes, you're overdue for some quality time in the outdoors. These activities will help you support the planet, promote greener living, and get back to nature. When you give her the chance, Mother Nature can readily help nourish your mind, body, and soul.
Eat More Plants
Connect with nature by letting her nourish you through a diet packed with plants. Eating more fruits, vegetables, and grains in place of meats and dairy products isn't only good for you, it's also good for the environment. Meat and dairy production is responsible for over 14% of greenhouse gas emissions around the world. Choosing veggie-based meals over meat-based dishes will support your health and that of the world around you.
Grow a Garden
Create a special green space at home by growing your own garden. If you don't have a yard, try creating a rooftop or balcony garden. You can even grow plants indoors with a sunny windowsill or grow light. Whatever your location, you can find a selection of plants suitable to the environment. Indoor plants help clean the air, boost your mood, and reduce stress. An outdoor garden offers the ideal space to sink your toes in the soil and nurture your green thumb.
Take a Volunteer Vacation
Plan a trip that's focused around appreciating and connecting with your natural environment. When things get back to normal, take a volunteer vacation to a national park and assist with trail maintenance and conservation efforts as you enjoy the scenery. World Wide Opportunities on Organic Farms (WWOOF) provides vacations where you volunteer with organic farmers in exchange for room and board. If you ordinarily work in an office environment, these trips will provide you with long hours in the fresh air and outdoors where you can reconnect with nature.
Tune In to the Season
It's easy to tune in to screens and overlook what's happening outside. Make the effort to be mindful of the season and plan activities that correspond with what's happening in nature. Eat local produce that's in season. Take a mindfulness walk outside. Take a summer dip in the lake, make pressed leaf art in fall, go sledding in winter, and explore local nurseries in spring. If you need more inspiration as you reconnect, an authentic psychic may help.
Meditate on Nature
Meditate outside listening to nature and feeling the elements like a gentle breeze or warm sunshine on your face. If you don't have a quiet outdoor space, sit near an open window and listen to a soundtrack of nature sounds. Visualize your root chakra extending deep into the earth and drawing up nourishment as you reconnect.
For more thoughts on how you can connect with nature and strengthen those roots, try calling a live psychic. You can get valuable insights on what your spirit guides are calling you to do.
Share This Page
---
Leave A Comment
You must be logged in to leave a comment. click here to login
Comments