5 Easy Ways to Brighten Your Aura
Date 9/10/2015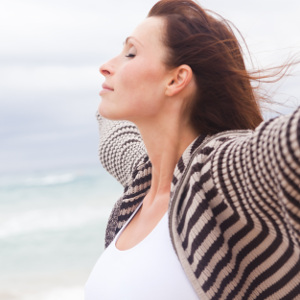 Your aura can reveal how happy and healthy you are, and a bright aura indicates superior health and happiness. If you suffer from a dark aura, here are five ways to brighten it.
Get and Stay Healthy
The first step toward brightening a dark aura is putting ill-health behind you and striving for strength and fitness. If you've fallen into an unhealthy rut, begin to make some big changes. Eating well at each meal, exercising daily, and getting enough sleep each night are the first steps toward feeling better about yourself. Make sure they're not just short-term goals but long-term ones, too, so your aura will stay bright for many days to come.
Move Past Negative Thoughts
Dwelling on negative thoughts can really drag you down, causing your aura to appear cloudy and dark. Instead of allowing yourself to focus on the negative, surround yourself with positivity and optimistic people. Turn up music that energizes with you, schedule a date with your most positive friends, think about how you, too, can emanate positivity, and let the negativity slip away. If you're having trouble letting certain thoughts lie, phone a psychic for advice on how to move on.
Commit a Random Act of Kindness
If you have difficulty doing something nice for yourself, try doing something nice for someone else instead. From complimenting a friend to leaving baked goods for a neighbor to making a long overdue visit to a family member, committing a random act of kindness can put a real spring in your step. When you're feeling good about your interactions with those around you, your aura will show it.
Go Outside
When your days get overscheduled with work and family commitments, it's easy to let your regular time outdoors slide. Remember that constantly being cooped up indoors is bound to have a negative effect on your body, mind, and aura. Whether it's winter or summer, take the time to go outside. If possible, go beyond just your backyard or your neighborhood. Seek out an unspoiled slice of nature where you can breathe fresh, clean air and soak in the life around you. Grounding yourself by reconnecting with nature will give your aura a new shine.
Find Beauty Around You
Sometimes you just don't have the time to trek outside. When you're really pressed for time, you might deal with stress by putting on blinders and focusing only on what's in front of you. While this might be a good short-term coping method, it can hurt you in the long run. Take a few moments to breathe and find the beauty around you, whether it manifests itself in your wonderful family, an expression of love, or a vase of freshly cut flowers. Your aura will take on a lighter and brighter hue when you're feeling happy and energized.
Brightening your aura boosts your mood and improves relationships with those around you. If you constantly suffer from a muddy, dark aura, get a psychic reading to better understand how your health and happiness interact.