---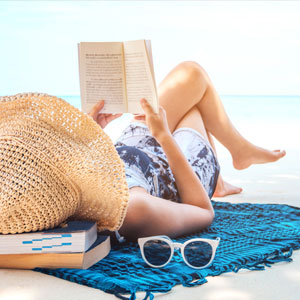 Now that summer is here and temperatures are heating things up, the time has come to decompress. If you're not sure what your ideal way to relax is, turn to your zodiac sign for guidance.
Aquarius
Put your creativity to work when you feel stressed or overloaded. Creative pursuits like writing, drawing, and painting help you release stress and tune into your inspiration. As an Aquarius, you feel most relaxed when you're following your heart in the creative arts.
Pisces
Close the blinds, pop a bag of popcorn, and curl up on the couch with a remote in one hand and an ice cold beverage in the other. Watching a movie or favorite television show is an ideal way for a Pisces to decompress.
Aries
Call your nearest and dearest to schedule an informal gathering at your place. Open a bottle of wine, prepare a few finger foods, and let the conversation take over when your guests arrive. As an Aries, you unwind through fellowship.
Taurus
Whip out the vacuum, scrub brush, and furniture polish. The Taurus likes to unwind with a mission, and cleaning offers the perfect outlet for stress and frustration. Afterward, reward your job well done with a night of frivolity with the family.
Gemini
Hit the club, attend a party, or set up a poker tournament with your pals. Your dual personality might crave solitude afterward, so set aside some time with a good book or a solitary hobby.
Cancer
As a Cancer, you take comfort in shopping therapy. Make some room on your credit card or restrict yourself to the window-only variety. If you feel nervous or unsure about the future, book a psychic reading online for further guidance.
Leo
Turn off your phone, unplug the computer, and disable the doorbell, Leos. This sign often experiences frustration because of their need for outside approval, so unwind by disconnecting from the outside world for a few hours — or even a few days.
Virgo
Sometimes Virgos need to pamper themselves to relax. A manicure or day at the spa might wash away your troubles and restore some balance to your overscheduled life. If you need help prioritizing, phone a psychic for guidance.
Libra
Romantic pursuits help the Libra relax during summer months. Plan a special evening with your significant other and add a few aphrodisiacs to the menu.
Scorpio
Pull out the board games or fire up the gaming system. If you're a Scorpio, unwind with an interesting game and, if possible, ask a good friend or loved one to join.
Sagittarius
Dust off your hiking boots and hit the trail. As a Sagittarius, you feel more connected when you're confronted with the great outdoors.
Capricorn
Make a reservation at your favorite fancy restaurant. Dine alone or with a pal and make sure to order a bottle of good wine or an indulgent dessert.
During the summer months, set aside some time for yourself and unwind with an activity that matches your zodiac sign. You'll thank yourself for taking the time to take care of your own needs.
Share This Page
---
Leave A Comment
You must be logged in to leave a comment. click here to login
Comments