Summer Is Here, Why Can't I Relax? 6 Ways to Truly Unwind and Enjoy All Summer Has to Offer
Published Date 7/3/2018
Category: Health & Wellness
---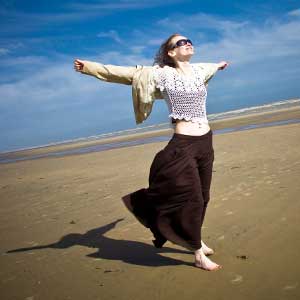 When you were a kid, summertime typically meant carefree days, lazy evenings, and much-anticipated vacations. If you're having trouble tapping into that feeling again, rest assured that you can still feel relaxed and rejuvenated this summer. Discover six ways to unwind and enjoy all summer has to offer.
1. Turn Off Technology
Your smartphone, tablet, and smartwatch are great for helping you connect with family and friends and staying on top of world events. However, your favorite technology also provides endless distractions and can prevent you from being present, no matter where you are. Start small by turning off your devices for a few hours a day or for one day a week. Use the time to meditate quietly, have a conversation with a loved one, or pursue your favorite low-tech pastime.
2. Spend Time Outdoors
Summer is the perfect time to enjoy the sunshine and the natural beauty all around you. Soak it up as you enjoy your lunch outside or as you take morning or evening walks through your neighborhood. When you have a few hours to spare, round up the family and head to your nearest state or county park for an afternoon of hiking and spotting wildlife.
3. Reconnect With Friends and Family
When life gets busy, it isn't unusual to focus on doing essential tasks while putting off important relationships. As the weather warms up and you slow down your everyday activities, make time to reconnect with the friends and family members who mean so much to you. Start by setting aside 15 minutes a day for a quick phone call, and gradually make time for entire afternoons or weekends with those you love.
4. Make Time for Yourself Every Day
If self-care sounds like a foreign language to you, taking time for yourself is key this summer. Start by taking a few minutes before anyone else wakes up in the morning or after everyone else goes to sleep in the evening. Enjoy a cup of coffee, soak in the tub, or phone a psychic for unbiased advice on a persistent problem.
5. Treat Yourself to a Vacation
Take your new self-care practice to a whole new level with a vacation. Whether you can afford to take off a long weekend, an entire week, or even longer, set your normal routine aside and embrace the opportunity to spend quality time with friends and family, immerse yourself in nature, and unwind.
6. Challenge Yourself to Something New
If you're accustomed to a packed schedule and fast-paced days, don't let the idea of unwinding cause undue stress. Instead, take time this sunny season to challenge yourself to something new. If you feel overwhelmed just thinking about starting something new, get a tarot reading for inspiration. Perhaps a physical challenge like climbing an intimidating peak or an interpersonal challenge like deepening a relationship with a new friend would suit you.
Whether you try one or all of these recommendations, remember to take it slow. Summer is the time for giving yourself a break, allowing yourself to daydream, and granting yourself space to take care of your body and mind without a nonstop schedule.
Share This Page
---
Leave A Comment
You must be logged in to leave a comment. click here to login
Comments