Spring Cleaning Takes a Zen Approach With These 6 Tips
Published Date 3/24/2018
Category: Health & Wellness
---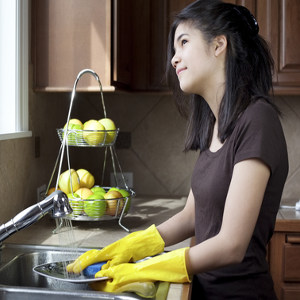 Most people meditate by focusing on a specific object, and can lead to increased self-awareness and improved well-being. These benefits are difficult to achieve in a cluttered living space, so why not tick off two goals at the same time? Try using the task of spring cleaning your home as a meditative practice. Take a zen approach to spring cleaning with these six tips.
Make a Plan Before You Start
Having an understanding of what you need to complete before you get started will help you to focus on the task once your cleaning gets underway. Consider making a plan to clean your home over a 30-day period. If you are hoping for faster results, tackle these speedy cleaning tasks that will have a positive impact through your entire space.
Think of Every Task as an Opportunity to Practice Mindfulness
Now that you have a plan detailing the tasks you want to complete, it's time to start. Just like regular meditation, you should choose a time of day when you know you won't be disturbed. Try to focus on each task and keep your breathing regular. If you find your thoughts straying, don't beat yourself up for losing concentration. Instead, simply move your thoughts back to the task at hand.
Use Your Five Senses
Take advantage of the opportunity to engage with your five senses: sight, smell, hearing, taste, and touch. You might try opening your windows while washing the dishes to listen to the birds chirping outside. Another good method is to use natural cleaning products that include mood-boosting essential oils like lemon and rosemary, as both will allow you to appreciate your sense of smell.
Find the Right Technique for You
Some people find it easy to switch off their thoughts while cleaning, but that doesn't mean it's easy for everyone. One technique you can try is to repeat a mantra while cleaning. Hop on the Internet to find a few mantras that will help you get into a positive mindset. Another thing you can try is playing relaxing music while you go about your tasks. A chat with an online psychic can help you find the method that will work best for you.
Change Your Attitude Toward Cleaning
To get the most benefit from using cleaning as a meditative practice, you need to change your attitude toward the tasks involved. Buddhist monk Thich Nhat Hanh uses the example of cleaning dishes. You are not simply washing cups, but rather creating something clean from which you can enjoy a cup of tea. Cleaning your home enables you to create a personal sanctuary where you can properly relax.
Clear Your Chakras by Clearing Clutter for Good
During your spring clean, don't just focus on the cleaning. A cluttered home fills your space with negative energy that can easily have an effect on your energy levels and health. Make three piles for keeping, donating, and throwing away your things. Making an effort to declutter your home in this way will have a similar cleansing effect on your chakras. If you find it difficult to part with sentimental items from the past, a tarot card reader can help you identify why.

A clean space often leads to a clean mind and there is science to prove it. Why not put these tips into practice today? Your mind and your home could benefit by tomorrow.
Share This Page
---
Leave A Comment
You must be logged in to leave a comment. click here to login
Comments