---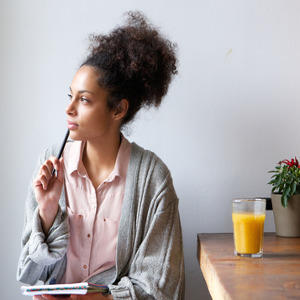 You've cleaned your closets, organized the fridge, and weeded the garden, but what about your mind? De-cluttering your mind is just as important as your typical spring cleaning. Clearing space in your brain allows you to focus on what's truly important.
Take a Deep Breath
This is a very easy yet very effective way to make space in your head. For a few minutes, concentrate on your breathing. Simply focus on your breaths coming into and then out of your body. The calming effect will let you focus on what's important.
De-Clutter What's Around You
Physical clutter often causes mental clutter. In a cluttered environment, you're faced with too much stimuli. At the same time, excessive clutter signals your mind that there's something to do. Cleaning your surroundings will give you peace of mind.
Think About What's Really Important
To simplify your thoughts, you need to pinpoint what's truly essential. You can make a short list to keep your focus. A live psychic chat can help you decide what this is. Find what's most important to you overall in your life as well as what you need to concentrate on in the moment. This will help clear your mind of extraneous concerns.
Write Things Down
This goes for little things, like appointments and ideas, as well as plans for achieving goals or things worrying you at the moment. Writing down phone numbers and appointments helps clear space in your mind for more important things. You don't need to store everything in your head! Keeping a journal will help you deal with more complicated matters. It lets you store your inner conversations, like concerns about a relationship, somewhere that they no longer intrude on your thinking.
Go for a Walk
Something as simple as going for a walk can clear your mind considerably. Get outside and engage in physical activity to take your mind off your worries.
Release the Past
Many people keep a large file of mistakes, people they've hurt, and missed opportunities tucked away in their minds. Instead of leaving these memories there to dwell on, take some time to go through and let go of what's not helping you now. Phone psychics can help find things you can release.
Consider Your Sleep
It's often difficult to get into an ideal sleeping pattern. Still, not getting enough sleep can leave you feeling tired and more vulnerable to worrisome thoughts. Think about how your sleep affects you. A simple tweak might do the trick.
Make Decisions
Being decisive can feel overwhelming, but making decisions clears up space to think about other problems. When you put off making decisions, your mind overflows with all the decisions that you still need to make. Taking a moment to take a deep breath and decide clears your mind.
It's important to clear your mind of the clutter we all tend to accumulate there. Organizing your thoughts, concentrating on the important things, and taking time for breathing and physical activities are all ways to de-clutter your mind.
Share This Page
---
Leave A Comment
You must be logged in to leave a comment. click here to login
Comments