Should You Visit Your Loved Ones This Holiday Season?
Published Date 12/2/2020
Category: Health & Wellness
---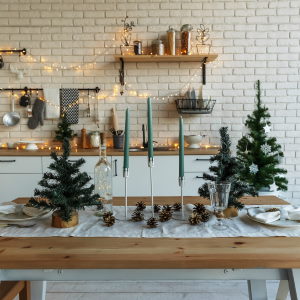 In 2019, holiday travel reached an all-time high with 115.6 million people traveling between Dec. 21 and Jan. 1. The outlook for 2020, however, is vastly different. Planning get-togethers amidst both flu season and the coronavirus pandemic presents a slew of concerns that families are navigating for the first time. If you're wondering whether you should visit your loved ones for the holidays this year, here are a few key things to think about.
Are Your Loved Ones in Your Bubble?
In the wake of COVID-19, many people have developed small social bubbles that consist of a few families who are exposed exclusively to one another. This allows people to expand beyond the strict confines of those in their household while still limiting their contact. If your loved ones are already in your bubble, you can more easily celebrate together without risking excessive exposure.
What Precautions Has Everyone Been Taking?
Though it's a touchy subject, it's important to ask if your loved ones have been wearing masks, practicing social distancing, and limiting their errands and outings. Two families who have been isolated for two weeks can meet with minimal risk of coronavirus exposure, while the risk increases where there are multiple families who go out often.
How Are You Traveling?
If you're traveling via plane or bus, you'll be in closer confines with others and have a higher risk of exposure. The way air circulates on these vehicles heightens the risk further. It's safest to keep your travel plans within driving distance.
What Are the Local Conditions?
If you're planning to head out of town, check the recent trends in COVID cases both for your locale and the one you're going to. If either location has a high number of cases, you may want to restrict your travel or take extra measures to quarantine before or after your trip.
How Will You Handle the Gathering?
The safest way to gather is for short periods of time with masks in place. Consider staggering mealtime so everyone can sit at least six feet apart at the table, or have multiple tables that keep households together. It's best to avoid staying overnight in someone else's house, as this increases exposure and makes it more difficult to stay masked for the duration.
Are Alternatives Available?
There are many ways to approach the holidays, including virtual get-togethers and small at-home gatherings with your household. If you're struggling with guilt or other difficult emotions over missing a gathering, speaking with an intuitive empath may help. It's important to accept the current realities of your situation and find peace with any decision that your family makes.
Every individual will experience unique feelings associated with this challenging time. Practice acceptance and flexibility to help everyone enjoy the holidays as safely and happily as possible.
Share This Page
---
Leave A Comment
You must be logged in to leave a comment. click here to login
Comments