---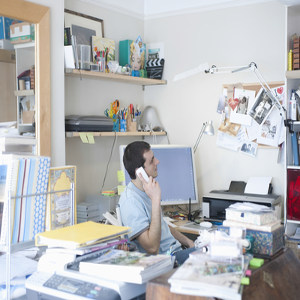 If you feel frustrated about never having the time to get organized or tame the clutter in your home, you aren't alone. New studies indicate that clutter can lead to depression, but this is an issue that you can tackle before it's too late. When you find that your accumulated stuff covers every flat surface in your home, don't feel overwhelmed. Instead, learn how you can properly purge your clutter while healing your spirit.
Don't Let Clutter Depress You
A recent study by the UCLA Center on Everyday Lives and Families looked at 32 families and the thousands of objects in their homes. The study found a link between high cortisol levels in female homeowners and a high density of objects in their homes. Researchers found these high levels of cortisol, also known as the stress hormone, in women only. Male participants appeared to feel less of an impact from the clutter.
If this sounds like you, start by determining how much clutter is in your home. If you're feeling anxious and overwhelmed, try getting an online psychic reading to analyze what's cluttering your home. Then, focus on what you can let go of. Clearing away clutter mentally and physically can give you a fresh view on your life.
Start With Selling
Decluttering means reducing the number of objects in your space. While you might decide simply to toss out some possessions, chances are that you'll want more of an incentive. Selling your items is a great way to earn back some of your original investment. Try local sites like Craigslist, post items on national sites like eBay, or go analog with a listing in your local newspaper. A little extra money in your pocket will reaffirm that purging clutter is a good thing.
Schedule a Date to Declutter
Scheduling a specific date when you and your family will come together with the specific goal of decluttering your home can be a great way to purge excess goods while bonding with your loved ones. Once you've committed to a date, you can no longer use your busy schedule as an excuse not to declutter. Set a date and consider it an appointment that you can't break.
Place Items in Three Containers
As you go through your clutter, place the items in three containers: a laundry basket, a garbage bag, and a donation box. Work through your home one step at a time to get rid of items you haven't used in awhile or that don't add anything of value to your life. Reduce the number of objects on any chair, counter, or drawer with this method. Simply work through your home to get rid of items that don't serve a specific purpose and have no emotional hold. You'll quickly see space clear up, while your mind frees up in the process.
By decluttering, it is possible to regain your sense of calm and peace and feel like yourself again. If you have trouble finding the source of your clutter, tarot reading might help. You don't have to struggle with depression, frustration, or downright anger because of clutter.
Share This Page
---
Leave A Comment
You must be logged in to leave a comment. click here to login
Comments