How to Use Manifestation Crystals by Psychic Rowan
Date 11/30/2021
Explore More: Crystals Manifesting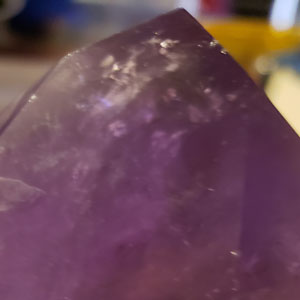 A manifestation crystal is identified as a "crystal completely encasing another crystal". This is a rare find, although our experience is that these crystals will find the human they wish to work with. The call of these friends, (at least to me) was clarion, irresistible and "crystal clear."  
Over the years I have collected three manifestation crystals; a large terminated, raw Amethyst encasing a slender terminated clear quartz, a small clear terminated quartz encasing a tiny, completely formed, terminated smoky quartz point and a similar clear quartz with one difference, the outer stone is double terminated, and while I always research and source my work (see the end of the article), much of this writing is from my experience using these friends in my work.


With Great Power…
Note:  This is not a stone I recommend for beginners, any more than I would recommend a novice motorcyclist would buy a super-fast bike as their first. It is for the individual who has worked with crystals in some way for some time; an individual that will be clear in the understanding that we, every human, are a clear and perfect channel for the cosmos and the Divine. We are created with great and wonderful attention to detail, the manifestation of the human was and is a continuing evolutionary miracle. This is a requirement for successfully working with these marvelous crystal friends.

However, with the use of such a stone of power, we caution that we must first be done with this work of unknowing. Our intent, focus and desire for the manifestation must be laser-like in direction. Shadow work undone can interfere with or manifest mixed results.

Assuming you have the required level of knowing, and inner-standing, here is my guide on…
How to Use Your Manifestation Crystal
Start by asking yourself these three questions:
Do I really want this?
What are my motives?
Are there reasons that it may not be for my highest good?
Once these are answered to your inner satisfaction, begin to work with your manifestation crystal:
• Find a quiet, comfortable place to meditate with your crystal.
• Focus on your breath at first, begin circular breathing which induces a calm, trance-like state
• When the breath has a steady, deep rhythm, move your awareness to the chakra you best associate with desire. For some this is the sacral or navel chakra, for me it is the 3rd eye, for others it may be the base chakra. (Evidence of the importance of the advice to "know thyself" also written at Delphi, and why we must know the Self, prior to working with these crystal friends.)
• Visualize the outcome, build a literal picture. Feel the energy and excitement for the desired outcome.

In a general manner, these crystals can be used to amplify and increase creativity, stimulate a creative way of thinking and self-exploration, if the criteria are met. For more about manifestation crystals, I recommend two resources below that I have used and rely on along with my own personal experience.


Resources:
Love is in the Earth: A Kaleidoscope of Crystals by Melody
Book of Stones: Who They Are and What They Teach by Robert Simmons and Naisha Ahsian

Get a Reading with Rowan x3571
Rowan has over 30 years of experience in study of the hermetic sciences. She is a professional intuitive, certified hypnotherapist, ordained minister and energy worker. She specializes in walking others through their darkness, sharing her candle's flame.