---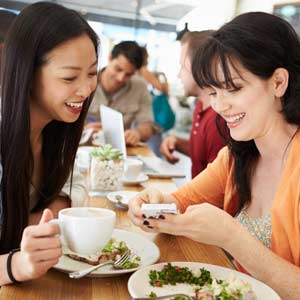 While everyone has a bad day every now and then, it's not healthy to allow yourself to linger in misery during a string of days. Instead, take the initiative to improve the course of your day so that you feel good about yourself and the world around you. Keep reading for tips on how to take a bad day and turn it around.
Treat Yourself to a Mini Shopping Spree
If you've had your eye on a pair of shoes or an electronic device for some time, go ahead and buy it for yourself. Having a long-desired object in your hand improves your mood and helps you focus your mind on something positive. Wearing those new shoes or using the new gadget helps extend that positive energy well beyond the day you buy them.
Look to spend a little less money while still treating yourself. Go to your favorite store and set a limit that's comfortable for you. Then, allow yourself to impulse buy up to that limit. This kind of process is exhilarating enough to turn around a really bad day.
Seek out Laughter
There's a reason for the old saying about laughter being the best medicine. Chuckles and belly laughs immediately put a new shine on your day. A good bout of laughter is as close as a funny online video. You may also decide to round up some friends to go to a comedy club. Check out the movie listings and go see whichever comedy tickles your fancy.
Talk to a Psychic
Authentic psychic readings provide a fun respite from the present. By looking into the future, you can focus on the positive situations that lie ahead. Place a call to a psychic hotline or check out a psychic website where you can get in touch with a person whose outlook and advice can help give you a dose of perspective to brighten your day.
Have Lunch with a Friend
Friends know and appreciate us, so one of the best ways to turn your day around is to spend time with one of your closest friends. Meet up at one of your favorite lunch spots, sit outside, and enjoy some delicious food. Merely being in the company of another person who loves you and has your best interest at heart is a foolproof way to change your day for the better.
Can't meet your closest friends in person? Call them up and chat on the phone while you eat a favorite dish. You still get the benefit of the conversation and laughter, even though you're not physically in the same location.
Create a List
Making a list of things that make you happy is one way to bring a smile to your face. Best of all, this strategy costs nothing. You can also create a list of what you're thankful to have. Once you begin to list out the reasons for your gratitude, the negative situations lose their power to make you feel bad.
Even if you're having a bad day, you have the power to change how you feel about the day by taking one or more of these joy-inducing steps.
Share This Page
---
Leave A Comment
You must be logged in to leave a comment. click here to login
Comments