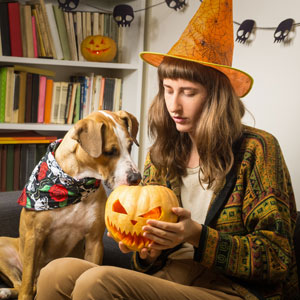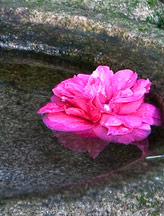 Get a Reading with Tivon x9781
Halloween is coming up. There are many preparations to find a costume, make seasonal foods, and set up haunting, scary displays to make the neighbors knock on your door. Then there is all that candy to be bought, exchanged and consumed. Oh, those sugar jitters!

Halloween is a fun holiday that brings our family and neighbors together. During this spooky time of year, I want to remind you about the safety of your pet.

There are many ways that Halloween can be a scary time for family pets. So, before all the "boos" and "eerie screams" take place, I want to remind you to make plans for your four-legged family members to be safe on a night when all usual schedules and family patterns go out the door.

Here are some steps you can take to make safety for your pet a priority, before the festivities begin:

1. Watch the Door
Keep in mind that the door to your home will be opening and closing more times in one night than usual. Sometimes in the fun of the night, your pet can be forgotten and may slip out the door. Consider having one family member being the "watch-dog" person. Or, maybe Rover can be in a separate room while the doorbells are ringing and kids are coming to the door for trick or treat.

2. Don't Stress Out
Some pets can be more nervous than others. Cats in particular can be startled more easily (hence the expression scaredy cat). Some smaller dog breeds are more vulnerable. The constant knocking or ringing of the doorbell combined with a crowd of kids screaming "trick or treat" will be fun and cute, but may freak your pet out. For the few hours of high festivities, maybe kitty or puppy can be kept in an animal friendly crate away from all the action in a room with the radio or TV playing as a familiar distraction.
3. Pet Tags – Just in Case
With the larger dogs, they can love the excitement and sometimes may run out into the neighborhood to follow the kids. But it's dark and there are a lot of other kids in strange outfits walking around so your pet may become disoriented. It can be traumatic to lose a family pet. Make sure that your pet has tags with phone number or is already chipped so the local shelter can locate you in the event of loss.

4. Pets and Candy
There are many potential dangers lurking in the candy bowl for pets, but especially dogs. Never give your dog (or cat) chocolate. At Halloween some parents hand out healthy treats of chocolate covered raisins. This combination of chocolate and raisins can cause severe sickness in dogs. Popcorn and nuts are also hazardous for small animals and children. We all know that happy-go-lucky family dog that likes to stick his big ol' nozzle into a bowl of candy. Pay special attention to those little individually wrapped candies that are packaged in foil. This can choke your pet. Plan ahead and make sure your pet does not have access to the candy or the dangerous wrapping.
Pet Psychics
are always available at Psychic Source to read and advise about any concerns you have with your four-legged family members.

Have a Happy and Fun Halloween!
Share This Page
---
Leave A Comment
You must be logged in to leave a comment. click here to login
Comments