---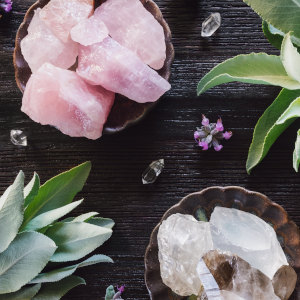 Taking a vacation this summer? When you put together your packing list, be sure to include at least one or two crystals. Bringing along meaningful crystals can help provide comfort, healing, and spiritual support no matter where you go. Here's a guide to the best crystals for summer travel according to your destination.
Beach Vacation
If you're heading to a warm beach with waves lapping at the shore, it will help to have some crystals on hand to help you truly kick back and relax. This kind of summer vacation is all about unwinding, so make sure you bring along stones that promote peaceful vibes and take advantage of helpful online psychic readings. Here are the must-have crystals for your beach vacay:
Amethyst: This is one of the most popular crystals for calming and relaxation. Use it to help let your anxieties go so you can find peace in the moment.
Moonstone: This stone helps to protect you and your belongings while you travel. Slip a piece of moonstone into your luggage before you board the plane to make sure it arrives safely at your destination.
Road Trip
Going on a road trip is one of the best ways to enjoy summer. If you're the type of person who loves stopping at random towns and meeting all kinds of new people along the way, this is the perfect getaway for you. However, some challenges to road tripping are bound to come up. For a smoother journey, make sure you have these crystals on hand:
Smoky quartz: This stone is said to protect against disorienting energies, which can be an issue when you're moving from place to place. Keep this stone nearby to help ground you as you explore new destinations each day.
Lemurian quartz: Between traffic jams and road construction, travel snags are inevitable when you travel by car. Bringing along some Lemurian quartz can help you maintain a peaceful, patient disposition.
Amusement & Water Parks
If you plan to enjoy fun thrills and wild rides at a theme park or water park this summer, you'll want to bring along a few protective crystals. Here's what to slip into your bag, pocket, or purse:
Shungite: Electronic devices will be all around you at a crowded amusement park. This stone helps minimize your exposure to the effects of scanning systems and technology.
Garnet: This stone is said to help protect against accidents and injury. It's a great crystal to bring along when you'll be going on daring roller coasters and other adrenaline-pumping thrill rides.
Enjoy your summer vacation to the fullest by using healing crystals during your journey. Allow these powerful stones to bring you peace, protection, and patience every step of the way and use a psychic line to find out which destination is right for you.
Share This Page
---
Leave A Comment
You must be logged in to leave a comment. click here to login
Comments