Awakening the Senses With the Scents of the Season
Published Date 12/13/2018
Category: Health & Wellness
---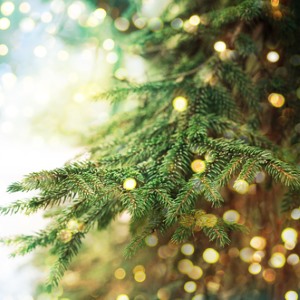 We all know how powerful our sense of smell can be. Scents of the holidays, like peppermint and pine, can trigger pleasant memories. But those seasonal aromas may also have some hidden health benefits you didn't expect.
Pine and the Outdoors
Nothing says holidays like the smell of the wintry outdoors. Evergreens like spruce, balsam, and, of course, pine mark the early days of winter with their distinctive woodsy scent. You can bring this smell into your home with candles along with traditional garlands, wreaths, and Christmas trees. Citrus fruits add another dimension to these natural scents.
Pine may also have some health benefits beyond holiday cheer. Some research shows that walking through a pine forest can improve moods while decreasing feelings of hostility and depression. Since this time of year can also come with stress, stocking up on holiday decorations may have the added benefit of keeping you more relaxed.
Cinnamon and Clove
Spices are a hallmark of winter and the holiday season. Cinnamon in particular can help increase your attention. Sprinkle some into your hot chocolate or enjoy it in pies and baked goods. Cinnamon also adds a twist to other recipes you love to eat in the cold weather. Sneak some into a favorite chili or baked squash, or you can mix it in with your breakfast. A psychic reading can help you explore some additional favorite recipes to share at an important family gathering.
Cloves, too, are a common scent for the holidays. You can pair ground cloves with fruit like oranges or apples or even marinade and meat. For another way to bring the spice into your life during the holidays, stud an orange with some dried cloves to make a natural pomander that freshens the air.
Chocolate and Vanilla
Desserts are a huge part of holiday cheer, and chocolate and vanilla bring sweetness to the season. Chocolate may even help improve your memory while preventing memory loss. Simply breathing in the smell has a positive influence on memory, so get ready to start baking your favorite dessert. Additionally, it can help reduce inflammation and prevent heart disease.
Need a happiness boost? Vanilla can bring on relaxation and joy. An authentic psychic reading can alert you to aspects of the season that trigger stress. Fortunately, your favorite holiday cookies, with an extra bit of vanilla extract, may help you stay at ease during the stress of the holidays. Breathe in the scent of warm cookies in the oven to feel more relaxed and happier while cutting down on stress and depression.
Minty, Wintry Peppermint
The minty smell of candy cane is ubiquitous during the holidays. It also can soothe your stomach while boosting your brain power. Smelling peppermint gives you an energy boost and improves concentration. And if the time comes to resist holiday treats, peppermint can help with that, too. It can curb your appetite and cut down on cravings.
You can creatively incorporate holiday aromas into everyday life this season. You'll create a great winter atmosphere and benefit from some health boosts these comforting scents bring.
Share This Page
---
Leave A Comment
You must be logged in to leave a comment. click here to login
Comments