4 Things You Need to Do to Get Ready for Summer Now
Published Date 5/22/2019
Category: Health & Wellness
---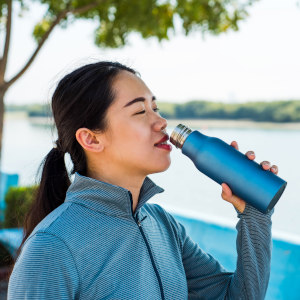 The summer season is ripe with opportunity. This is the traditional time to show off your bikini body and get together with friends. However, there are many different ways that you can enjoy the summer. Start planning now with these smart activities that will get you on track for an unforgettable season.
1. Get a Great Water Bottle
Staying hydrated is a simple activity that offers a wealth of benefits. Proper hydration will keep your heart healthy, your joints lubricated, and your muscles ready for movement. You'll digest food better when you're drinking plenty of water, which can help you trim your shape and get the summer bod you're after. Ample hydration will also give you softer skin and lusher locks.
Invest in an insulated water bottle that you love. Pick your favorite color and a convenient size. If you don't like plain water, try a bottle that lets you infuse it with fruit. The key is to make sure you have easy access to fresh hydration throughout the day, so you can ramp up for summer right.
2. Accelerate Your Workout
If you don't have a workout routine yet, now's the time to start one. Find an activity that you can happily engage in at least three times a week. This might be taking a long walk with your dog, hiking with friends, or taking up a yoga class. Make a plan to gradually step up the frequency and intensity of your workouts to help you get that bikini-ready look. If you already have a workout routine, think about how you can take it to the next level.
3. Think About Your Goals
The earlier you can determine your goals for the summer, the easier they'll be to achieve. If you're not sure what direction you're headed this hot, sunny season, consider getting a psychic tarot reading to help you find your way. Are you feeling called to travel to exotic places? Do you want to spend the summer landscaping your garden? Perhaps you're looking forward to a family-focused season with lots of backyard barbecues and splashing in the sprinkler with your kids. Figure out how you want your summer to look now so you can make it happen.
4. Start Setting Up Your Calendar
Many summer activities require advanced reservations. If you want to hit a music festival or take a big vacation, it's best to make arrangements as soon as you can. Even smaller activities require some advanced preparation. You'll need to plot out the garden and order seeds early if you want to start them in time to have a blossoming summer paradise. Pull out your calendar and mark all the important dates this season so you don't miss a thing.
If you're not sure how your summer is going to play out, consider consulting an authentic psychic. You can get valuable insights that will help you chart your course. Whether you're looking for romance or seeking ways to build a deeper spiritual connection, a psychic can help point you in the right direction.
Share This Page
---
Leave A Comment
You must be logged in to leave a comment. click here to login
Comments