Reimagining Holiday Gatherings in the Time of COVID
Published Date 12/15/2020
Category: Health & Wellness
---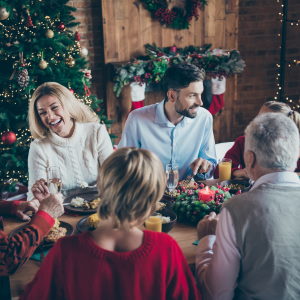 The coronavirus pandemic has reshaped nearly every part of our daily lives. The holiday season is no different, presenting unique challenges that require creative solutions to help families stay close. Consider some of these options for celebrating your holidays mindfully in the time of COVID.
Virtual Celebrations
The safest way to celebrate with loved ones during the coronavirus pandemic is via a screen. Virtual celebrations allow attendees to see maskless faces without any concerns over virus transmission. If you're planning to gather remotely, send your packages early so the overburdened postal service has time to deliver them. Consider preparing a few games or conversation starters to keep your party interesting and ensure it's not reminiscent of anyone's dreaded Zoom meetings.
Outdoor Events
If you plan to gather in person, an outdoor event is the preferred choice for health and safety considerations. Masks may even be welcome as face warmers in brisk holiday weather. While a lengthy outdoor dinner probably isn't feasible in many states, you could still gather with family and friends for a different activity, like ice skating or a stroll to look at holiday lights.
Careful Conversations
No matter how you gather, it's important to be mindful of your conversation this holiday season. COVID is a hot topic, as are the politics surrounding how it's handled. If there's dissension among family members, you may want to outlaw certain topics during holiday gatherings. Encourage your guests to find another outlet for their concerns, such as an empathetic psychic chat.
Smaller Gatherings
Where indoor gatherings do take place, it's best to limit attendance. Visiting only with those who are already in your bubble will keep your exposure especially low. Having a small gathering will also allow you to seat people at least six feet apart or give each household their own table or area for mealtime. If you are still deciding if it makes sense to visit your loved ones in person this holiday season, this article may help.
Reimagined Traditions
Don't let the restrictions of COVID ruin your holiday season. There are many ways to practice safer socializing and simply re-imagine your typical traditions. If your family usually goes out to see a movie in the theater, stock up on popcorn and theater candy to recreate the experience at home. Have extended family members gather virtually for a shared blessing before the meal at a set time before you eat at your separate homes. Think creatively to make the holidays special no matter what shape they take.
While your holidays may not look the same, you can share just as much love and thoughtfulness, regardless of the impact that COVID is having.
Share This Page
---
Leave A Comment
You must be logged in to leave a comment. click here to login
Comments