Health and Fitness Resolutions: How to Make Ones That Stick
Published Date 1/9/2018
Category: Health & Wellness
---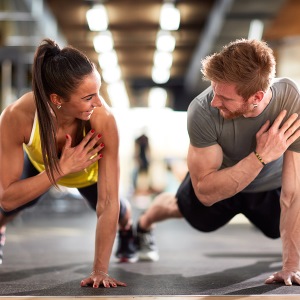 The start of a brand new year is the perfect time to turn those harmful habits around and make a New Year's resolution to get healthy and have fun doing it. If you've made resolutions before, only to drop them days or weeks later, you know it isn't always easy to change your habits. How can you make healthy changes that last? Try these tips to make health and fitness resolutions that will stick throughout 2018.

Be Realistic
Dreaming about the changes you'd ideally like to make is great for getting excited about the year ahead. When it comes to making resolutions that stick, however, be realistic. For instance, if you've never lifted weights before, resolving to win a weightlifting competition by June may not be achievable. Instead, think about changes you could realistically make. Consider talking with a
live psychic
to visualize your resolutions.

Break It Down
To make sure your resolutions stick, start with incremental changes. Naturally, you can't transform your workout routine overnight or run a marathon with only a day of training. Think about how much time you'll need to make the changes you want to see, and set mini goals every day, week, or month. Try to make each mini goal quantifiable so you'll know whether you're on track or if you need to readjust.

Share Your Goals
Whether you're nervous about sharing your resolutions with loved ones or you can't wait to tell the world, it's important to make your objectives known. Naturally, this will reinforce your commitment and may even help you stay accountable. Try sharing your goals with your family and friends on social media, as writing your resolutions down will help make them tangible.

Find an Accountability Partner
Don't stop with simply broadcasting your goals. Talk to those close to you about the changes they're planning to make in the upcoming year. Partner up with someone who's made a similarly fitness-minded resolution, and keep each other accountable. Check in with each other at designated intervals to share your achievements and challenges and make sure you're both on track.

Change Your Routine
If you've set your sights on major changes, keep in mind that you may need to adjust your routine to make room for your new healthy habits. For instance, you may need to wake up earlier each day to squeeze in a workout, or you may need to set aside time for meal prep on Sundays.

Reward Yourself
As you keep meeting your goals, you're bound to feel increasingly happier with how you feel and look. To keep your motivation high throughout the year, reward yourself every so often. Rather than allowing yourself an unhealthy treat or a cheat day, try rewarding yourself with a great new pair of running shoes, a high-tech fitness tracker, or something else that makes you happy and will help you stick to your resolutions.
Making healthy changes could be just the first step toward making 2018 your best year yet. Get a
psychic reading by phone
to find out more about the excitement this year holds.
Share This Page
---
Leave A Comment
You must be logged in to leave a comment. click here to login
Comments