The Crossing Ceremony - Dealing with Sudden Loss or Tragedy by Psychic Rowan
Date 9/4/2021
Explore More: Rituals Death and Dying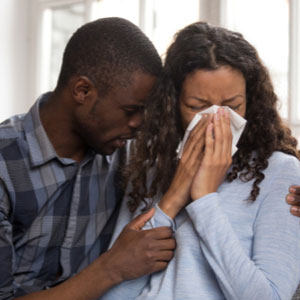 Certain African cultures believe that when a body experiences sudden loss of life, the spirit becomes confused and has a difficult time understanding what has happened. Loved ones left behind in the same culture understand that mourning rituals are to help the dearly departed comprehend that they are no longer among the living; dark clothing, visits to the resting place, prayers to the ancestors all signal to the departed, they are now spirit. This tradition is from the Zulu culture.
The Crossing Ceremony
One year later there is a ceremony called The Crossing. Friends and family gather in honor of the dearly departed. They sing, they dance, they remember, and they memorialize. The gathered loved one's present trinkets and mementos for the spirit's journey.
For one full year the spirit has had the benefit of understanding it's passing by the actions of the living. One year later at their Crossing ceremony, they are reassured, and by Shaman, accompanied to the bridge, where they "Cross Over" to the ancestors. You can even enjoy a music video by South African musician Johnny Clegg, called "The Crossing" where there is actual footage of his friend's Crossing.
While we may not have the benefit of a tribal system, or a community, we can develop our own Crossing ceremony to help us deal with and put a boundary on our grief. When grief takes over our lives it can feel paralyzing. It can feel like we too are dying. There are healthy ways to deal with loss and limit our grieving to times where we feel safe to express ourselves (sobbing in the shower, for example). I have some suggestions if you are struggling to deal with loss.
Use The Crossing to find your own special way to say goodbye.
Perhaps write a little note every time your heart hurts, say the words unsaid, or state your feelings. At one year, safely burn the notes in ceremony (please do not do this unsupervised if you are under 18). Visualize the smoke carrying messages of love to your dearly departed, carrying with it all the feeling you poured out, along with ink and, perhaps tears, onto the paper.
You could also use a balloon, sending your notes up to heaven, (there may be environmental concerns, please balloon responsibly). This is very cathartic and a way to symbolically let go, to release, to allow the loved one to cross the bridge.
The experience of sudden loss can cause us to feel lost. Using a ceremony like a Crossing, we can take charge of how we feel and how we deal. It is also good for us to remember that every minute of our day, we are in the Now, and that is truly the only place we can truly exist, act, and be in the moment. The past serves as teacher, the future is mutable and largely depends on Free Will and choices.
Why Should We do a Crossing?
The other gift of a Crossing ceremony is that it allows the living to move forward at the same time. Doing this, we honor the lives of the departed, and our own.
With deepest sympathies…
Blessed Be.

Get a Reading with Rowan x3571
Rowan has over 30 years of experience in study of the hermetic sciences. She is a professional intuitive, certified hypnotherapist, ordained minister and energy worker. She specializes in walking others through their darkness, sharing her candle's flame.