Once a Curious Child - Now an Experienced Psychic Medium by Psychic Raquel
Date 10/11/2019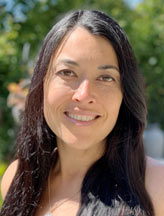 Get a Reading with Raquel x9488
Children are wonderful conductors of energy. Some children are even gifted with mediumship from birth that carries on throughout their lives. I was lucky enough to be one of those kids, seeing and connecting with spirit for as long as I can remember. I was always very interested in the spirit world and loved to hear about the history of the person who still lingers on. My mother, being a medium as well, nurtured my curiosity and taught me how to keep myself open to the opportunity of communication.

One of the first encounters I can recall is from when I was six years old, traveling through Texas with my mother. Because of my fondness for history and the spirit world, my mother took me to the Alamo in San Antonio. During my exploration of the old stone building, I saw a soldier standing near a corner. He was wearing a pale blue uniform jacket with gold buttons and cream-colored pants. I could see through his spectral form that his legs were not visible below the thighs. We locked gazes and acknowledged the fact that I was truly seeing him as he faded from view. I remember being so excited—not afraid—by this encounter that I couldn't wait to tell my mother. She nodded in approval and off we went to the next exhibit. Recently, an internet search of the uniform colors I'd witnessed proved to be those belonging to a Mexican soldier, validating what I saw so many years ago.

My first personal communication came through at the tender age of nine. One afternoon, my family and I returned home from an outing to the phone ringing. The phone call came from my grandma telling us that my grandpa had passed away. I loved him very much and took the news hard. I ran to my bedroom, threw open the door and saw him sitting on my bed. He had a comforting smile on his face and a sheet over his legs. The intense feeling in the room was that of love. He gently pulled back to sheet to reveal his once amputated legs, fully intact. I then realized his powerful message: "I am OK! I love you!" Unspoken, but I understood in full clarity what was being communicated with me. I ran from the room exclaiming, "Grandpa is on my bed and he has his legs back!"
My grandpa was a diabetic and had both his legs amputated below the knee. In my mind, he was always a big, strong, wise, old Japanese man, whom I loved dearly. Though he always kept a smile on his face, seeing him with his legs taken from him was devastating for me. Receiving that message gave me so much needed comfort and relief.

I now hope that the messages I receive and pass on during readings can provide similar feelings of comfort and relief to those mourning their loved ones.