---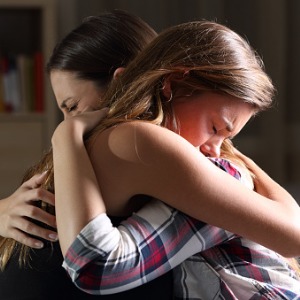 Grief may be a natural response to loss, but it's also one of the most emotionally difficult and debilitating processes humans ever go through. When your friends are grieving, you might feel there's little you can do to ease the suffering. However, you are never helpless. The following proven strategies will help you support your friend through the grieving process.
1. Stay Close to Your Friend
Many people feel they should give their friends space to process their grief. However, stepping back can be hurtful and confusing. Instead, be present for your friend through the grieving process. Ideally your contact should be in person, but even emails, phone calls, and text messages can help your friend feel less alone. You might not always have the right words, but simply letting your friend know you're sorry for the loss can be enough. If you have special memories of the departed, your friend would probably love hearing them.
2. Ask Whether You Can Attend the Funeral
Unless the funeral is a small private affair, your friend would probably welcome your presence. The funeral will be difficult for your friend, but having your hand to hold and shoulder to cry on should help.
3. Let Your Friend Process Grief Their Way
Grief is a personal process. Some people cry and others don't. Some people grieve for weeks while others take months. There are no rights or wrongs here. Saying not to cry, even with the best of intentions, can make your friend feel self-conscious about grief. Instead, show your support through a gentle touch or cuddle as she or he cries.
4. Spring Into Action
Dealing with practicalities can take a backseat when someone is grieving. Stepping up and helping your friend take care of business can be so valuable. Prepare meals for your friend to relieve him or her of cooking duties. Make them small, as grief can impact appetite. Open mail and act on anything urgent. Ask whether the death certificate needs signing or accounts need closing that you could help with.
5. Suggest Professional Help
While the support of friends like you is invaluable, often grieving people benefit from professional help. Seeing a therapist can be a helpful way for your friend to process feelings of grief. Joining a support group can help your friend meet others who share their experiences. An angel card reading can offer guidance and a way to connect with loved ones on the other side, including the recently departed. A psychic reading online is a great way for your friend to connect with the deceased without leaving home.
When your friend is grieving, it's time to step up. With the right supportive strategies, you can be exactly what your friend needs during this difficult time.
Share This Page
---
Leave A Comment
You must be logged in to leave a comment. click here to login
Comments