The Dangers of Office Romance and Dating a Co-Worker
Published Date 9/19/2018
Category: Career & Finances
---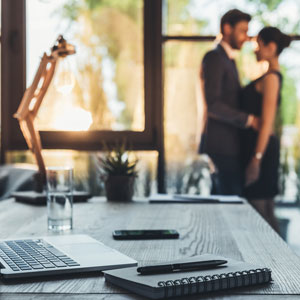 An office romance is more common than you think. A 2018 study found that 52 percent of respondents admitted to having an affair and 78 percent said they would do it again. While many people meet their spouse at work, an office romance doesn't always work out. Here's what to remember when dating a co-worker.
The Office Gossip Will Be Brutal
No office romance goes unnoticed forever. You may think you will handle it discretely, but your co-workers will start to notice stolen glances, flirty smiles, and furtive brushes against each other near the copier. Once the cat's out the bag, the chatter will start. Rumors will start to fly that you're receiving preferential treatment or got a promotion simply because of who you're dating. You could find yourself on the receiving end of some nasty remarks and end up being ostracized. Life at work can become miserable.
It Can Create Tension in the Office
Almost everyone who starts an office romance thinks they're mature enough to keep their personal relationship separate from work. Are you sure about that, though? Will arguments and trouble spill over into the workplace? If you're fuming at each other or you vent to co-workers about your squabble the night before, it creates tension for everyone in the office. It may be a good idea to do a love tarot reading before you jump into a relationship to see if you're compatible.
A Breakup Is Awkward
It's easy to get caught in the thrill of a new love interest at work. It adds excitement to a boring day at the office. However, before you get involved with someone at work, consider how things could turn out if the relationship ends. Breakups are always hard, but an office breakup is horribly awkward. Instead of having something to look forward to every day, you will now dread bumping into each other. Try as might, you won't be able to avoid each other all the time. Even if you're an emotional mess, you will still have to interact with your ex in a professional manner at the office.
It Could Get Messy
If you find yourself falling for someone who is either your superior or subordinate, you need to think very carefully. If it doesn't work out, it could get messy. If you are the superior, you could face a backlash. A bitter ex may report a case of sexual harassment to human resources or slap you with a lawsuit. If you're the subordinate, it could be career suicide. Your ex-lover may withhold promotions or penalize your performance. In the worst-case scenario, you could lose your job.
If you're going to embark on an office romance, tread carefully. Successfully navigating an office relationship isn't impossible, but it can be tricky. Be aware of the pitfalls and keep things professional during working hours. If you want an idea of what your chances are with your love interest, visit a love psychic who can help you avoid making a mistake.
Share This Page
---
Leave A Comment
You must be logged in to leave a comment. click here to login
Comments