Fortune Favors: Top 7 Money Tarot Cards for Financial Insight by Psychic Lexi
Date 8/11/2023
Explore More: Tarot Spreads Tarot

Welcome everyone! One of the most often asked topics in a Tarot reading tends to be about money and finances, and rightfully so. First of all, money is energy and like other energies, we do need it to survive.
I am going to discuss my top 7 cards that favor the fortunate in a Money Tarot Spread. It is by no means the only money cards that are positive. These cards are not listed in any order of importance. You may notice that there tends to be a lot of pentacles that appear. The reason for this is because by their very nature, the pentacles in the Tarot tend to be about money. You will also observe that two of the major arcana have made my top 7 list as well. This is because it's not so much about the cards, but where they appear in a spread. For example, are they in the past, the present, or the future? This being the case they play an important role in financial tarot reads as they bring in things such as intent, emotions, and outcomes as well.
Before we get started on the actual cards, I'm often asked if it's necessary to use a certain Financial Tarot Spread. The answer to that question is no. Most tarot readers over time develop their own personal spreads that connect with their energy as well as the cards in general. Many of us use the same spread for a variety of different needs/questions of our client. If you're a beginner at reading the tarot, explore! In the end, whatever you're comfortable with and works for you is the answer.
7 Tarot Cards that May Indicate Money
For those that are interested, I'm including the spreads that I use for most of my money tarot readings. I have also done two reads (for clients I shall call "T" and "D" to protect their identity) and with their permission I will share the results with you now.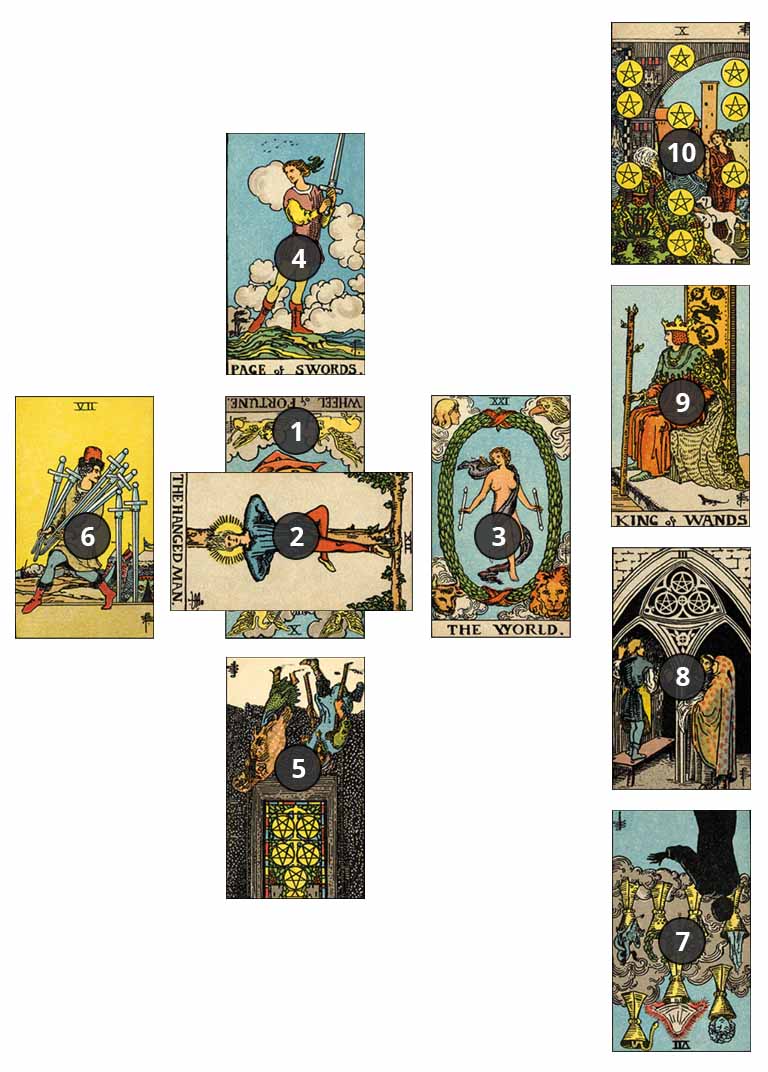 Celtic Cross Tarot Spread for Money and Abundance
The first one is a basic Celtic Cross Tarot Spread. Your intent when using this is about money and abundance. It's a basic 10 card spread. My client "T" asked if they are on the right path where money is concerned, as well as will it work out in the long run.
Card 1 is the middle and represents the person. Wheel of Fortune (reversed). Not feeling secure in their path
Card 2 goes horizontal over card one and is what's "crossing" the person. The Hanged Man. Feeling stuck; powerless. This is also a person who is in a situation where they have the tools to free themselves at any time.
Card 3 is above card one and is what "crowns" as well as goal. The World. Great card to have in this position as it shows your success (in this case financial) will be endless.
Card 4 is below card one and is what "lies beneath" as well as the distant past. Page of Swords. It's a card that shows positive change. In this position of the distant past, it tells of changes that were helpful to the current situation.
Card 5 is to the left of card one and "is the recent past." Five of Pentacles (reversed). It shows of a recovery from a financial loss.
Card 6 is to the right of card one and "is the future influence."  Seven of Swords. You will need to use your skills as well as planning to move forward.
Card 7 to the right of card four, starting a new row represents "your attitude and current position". Seven of Cups (reversed). When this is reversed, it indicates that the person asking the question is overwhelmed. They need to focus again.
Card 8 is above card seven "the situation; what influencing; the environment." Three of Pentacles. Showing that teamwork is necessary for the goal to be achieved.
Card 9 is above card eight "hopes and fears emotions." King of Wands. Be bold. Take control of the situation. Fortune favors the brave.
Card 10 is above card nine and is simply "the outcome." Ten of Pentacles. Most sought after card in finances. Big money. Generational success.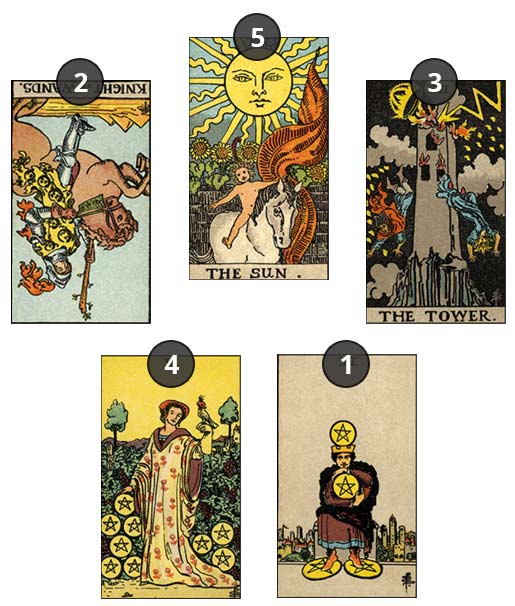 Five Card Pentacle Tarot Spread for Money and Abundance
My other spread, which is a Pentacle Spread, is a five-card spread in the shape of a pentacle. Since the pentacles in the tarot tend to be about money, I feel very connected to this spread. It is laid out in the shape of a pentagram, or a pentacle depending on your beliefs. It is used to read the results for projects and goals.
My client "D" wanted to know the outcome of changes that have been made in the company.
Card 1 is lower right point. Meaning: Earth and current situation. Four of Pentacles. Meaning the current situation indicates that caution is necessary, but so is releasing of funds for balance.
Card 2 is middle left point, above card four. Meaning: Fire and goals, drive, will. Knight of Wands (reversed). Goals are solid without challenge; they are as predicted.
Card 3 is middle right point, in line with card two. Meaning: Air and things that are facts, such as what you need not what you wish. The Tower. In this position of facts, it reminds you that crisis can produce sudden change. With that in mind, it also highlights higher learning to offset disaster.
Card 4 is left of Card one on the point. Meaning:  Water and what can be changed. Variable. What you have control over. Nine of Pentacles. It shows that you control your success.
Card 5 is the top of the point. Meaning: Spirit/God/Goddess/Universal Chi The outcome. Advice on how to achieve your goal. The Sun. Hard work and diligence has paid off.
Many blessings,
Lexi
Tarot Meanings Reference Guide Download!
Use this guide to discover the connections between Numerology, Astrology, and the Minor Arcana Tarot Cards.