Recently Graduated? How to Know if You're on the Right Career Path
Published Date 8/14/2018
Category: Career & Finances
---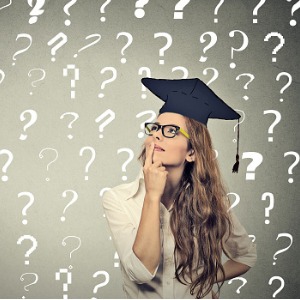 You've studied hard, completed your assignments, and passed your tests. The piece of paper you've worked so hard for is now in your hand. So why are you questioning your career path? Those gnawing feelings of doubt are common for recent graduates, but this guide will help you decide whether you're really on the right career path.
Stop Listening to the "Shoulds"
We're constantly bombarded by messages about what we "should" be doing. We should enter the family business or pursue a high-powered career. We should secure a top salary or give back to society. Those "should" messages can come from people we know or our own internal voice, but they tend to drown out what we really want. You need to stop listening to them to know your true desires.
Ask Others for Their Opinions
While self-reflection is important, other people can offer new insight into your career plans. Talk to people who know you well, like close friends and family members, to see whether they feel you're suited to your intended career path. A life coach can offer an impartial opinion about your employment plans. Online psychic readings can also steer you in the right direction. Search for live psychics who specialize in career and finance topics.
Use Your Talents
We've all got natural talents. You might have an aptitude for math or the creative arts, for example. Perhaps you've always found talking to people easy, or you're very detail-orientated. Consider your talents carefully and see whether you can use them in your intended career path. Ideally, your career path and your natural talents will align.
Do Something You're Passionate About
Passion helps us get up in the morning and inspires us to get through the day. You're not likely to love every element of every job you take, but the passion you have will help you stay motivated. If you're not passionate about the job or industry you intend to enter, how will you find the drive to do it 10 or 20 years from now?
Intern or Volunteer in Your Chosen Field
Interning and volunteering in your chosen field gives you the chance to test-drive your career and see if it's really for you. Ideally, you've interned as part of your studies. If you didn't get work experience before graduation, it's never too late. Many businesses welcome volunteers. Assess your interning and volunteer experiences and decide whether they've made you excited about your career prospect. If you hated the unpaid work, perhaps you need to choose another path.
Only you will know whether you're simply experiencing a case of cold feet or your career path should take a detour. Assess all your options and listen to your head and your heart before making any decisions. While you've worked hard for your degree, it's never too late to veer off your intended career path and try something new.
Share This Page
---
Leave A Comment
You must be logged in to leave a comment. click here to login
Comments