---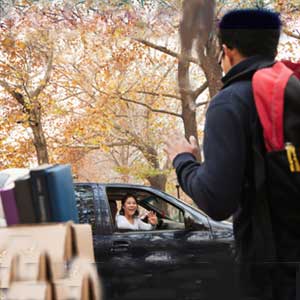 The fall of senior year in high school can be a nerve-racking time for teens and their parents. But it's also exciting to help your children plan the next stage of their lives.
Most college deadlines are January 1, but the work of preparing applications should begin long before that. It's recommended that people begin exploring colleges they may want to attend during their junior year.
If you can't make long-distance visits to colleges out of state, at least make an effort to visit those that are close to home. Go to college fairs with your teens at their schools or those nearby, as well as presentations by college representatives who may be visiting a city near you. Colleges place a lot of stock in students who show a sincere interest in attending their schools, so talking to representatives at the fairs, doing online research and making calls to admissions to gain more information are ways to show that interest.
Get Advice
When putting together a list of potential campuses to attend, applicants should have some schools they're confident of getting into and some that they aspire to but where they have more limited chances of being accepted. That doesn't mean they should leave off competitive schools and settle for less, but applicants should be realistic about their chances of getting into their choices.
To help understand the intricate process of finding the right colleges for your youngsters, it helps to get as much advice as possible. The "right fit" is a term that college officials often use to describe whether prospective students will be happy in the learning and cultural environment of their schools.
Trying to figure out what path to take to college may be helped by getting some insight from phone psychics who see beyond the nuts and bolts of a situation. The advice could point your family in the right direction by offering the best psychic reading that answers many of your questions.
Help Teens Be Responsible
Think of applying to college as your children's first responsibility as adults. That means meeting application deadlines and working with their college counselors to get documents in order, but take the lead to make sure everything gets done.
While college counselors at most schools will submit transcripts and recommendations from teachers, your students have to ask for the recommendations, submit their college test scores and help you work on financial aid applications. Be sure to have them send thank you notes to counselors and teachers who took time to recommend them.
With the high cost of a college education, you should also explore financial aid options available at the schools that interest your teens. Some colleges will meet as much as 100 percent of the need through a mix of scholarships, work study jobs and loans. Stay on top of financial aid application deadlines because early responders have a greater chance of getting the aid they need. When colleges can only offer a certain amount, you'll have to plan the finances needed to make up the remainder.
Share This Page
---
Leave A Comment
You must be logged in to leave a comment. click here to login
Comments