Drowning in Debt? 4 Tips to Help You Get Back on Your Feet
Published Date 11/3/2015
Category: Career & Finances
---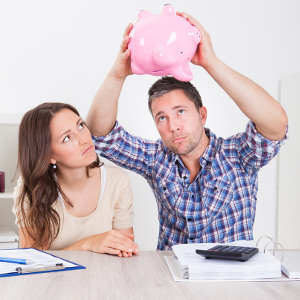 It's easy to start feeling like there's no way out if you're drowning in debt. However, you can make minor changes without overhauling your entire way of life and still get back on your feet. By spending wisely and saving where you can, you'll start to reduce your debt.
Cut Down on Spending
To free up some money to start putting towards paying off your credit card debt, you need to cut back on your spending. Though it may seem insurmountable at first, taking a good look at your spending habits will reveal places where making small cutbacks can go a long way.
Downgrade your cable service, or get rid of it completely (you can watch plenty of shows online!). The same goes for magazine subscriptions and other things you don't really need. Having a chat with a psychic online can help you pinpoint places where you can save.
When You do Spend, Spend Wisely
In addition to canceling or cutting down on extra services, you can also find ways to save when buying things you really do need. There are some things (like food!) you can't cut out entirely, but that doesn't mean you should go for the most expensive goods.
When you go grocery shopping, buy items that are on sale, and stay away from brand names to cut down on the total bill. For your most expensive groceries, try buying in bulk from stores like Costco. Signing up for rewards programs can also get you perks, like saving on gas.
Make the Minimum Payments on Credit Cards
Credit card debt can build quickly. With the money you save by tweaking things like your grocery budget and cable costs, make sure you start to tackle credit card debt wisely. You should at least make the minimum payment on your credit card balances every month. This improves the likelihood that you won't completely ruin your credit score, something that will make things tough for a long time.
Plus, if you don't at least make the minimum payment, you risk getting stuck with even higher interest rates. So use the money you save to get ahead here.
Do More at Home
You don't have to give up on little luxuries if you change how you approach them. Instead of buying it each day, make your coffee at home. Likewise, pack your lunch regularly. One easy way to get into this habit is by making extra at dinnertime, so you have enough to take as leftovers for lunch.
And if you have family living nearby, start getting together for weekly dinners. If you're not sure what family members might be open to this, find out from a telephone psychic reading. Not only will you get to spend quality time with family, you'll save a meal from your shopping budget, and you may get leftovers out of the deal too.
You don't have to cut out all fun to cut back on your debt. Making simple daily and monthly changes can free up money to pay off building credit card bills and reduce your debt.
Share This Page
---
Leave A Comment
You must be logged in to leave a comment. click here to login
Comments