---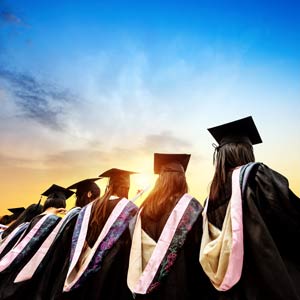 Once you graduate, you'll probably have clocked up at least 17 years in the classroom. It can be exhilarating to receive that piece of paper, but it's also frightening to think about venturing into the big wide world of corporate America. But with this advice under your belt, you needn't stress about transitioning from college kid to full-time employee.
Know What You Want
This might seem like a no-brainer, but you might be surprised how many college graduates don't know what they want out of their career. Many are influenced by the career path their parents have mapped out for them or the advice their career counselor gave. However, while this advice will consider your best subjects or lucrative or in-demand roles, it may not consider your passions.
Pursuing a career you really want is the best way to find success. Think about the subjects you really enjoy and work out how you can make a career out of them. If you're struggling separating yourself from the influence of others, consider meeting with an authentic psychic. A live psychic reading can reveal your innermost desires and the right path for you.
Never Miss a Networking Opportunity
What you know matters, but who you know also counts in the corporate world. It's never too early to start networking. Look for opportunities to rub shoulders with the right people. Volunteer for reputable charities or community organizations, and mingle with the higher-ups. Take work experience positions, and work as hard as any paid employee. Ask for meetings with your parents' friends who work in your preferred industry. You never know where your connections will lead.
Clean Up Your Social Media
Around two in five companies admit to social network stalking before hiring new candidates, and 43 percent of these firms unearth information that makes them pass on a potential new employee. What would they find on your profiles?
Hopefully you've kept anything truly damaging offline, but even harmless party pics could cost you your dream role. If you use a lot of bad language, post racist or homophobic comments, or badmouth people at your part-time job, it could hurt your career chances. Delete anything of this nature, and start posting about things that present the right image, like community participation and volunteer work.
Learn How to Tailor Your Applications
You'll have the best chance of landing a great entry-level role if you learn how to tailor your job applications. From a base cover letter and resume, you should make changes which highlight any skills and experience which suit a new role. You can get a feel for these in the job description or company website. Make sure to also mention any connections you have to the company and why the role speaks to you.
Finally, always address your application to a specific person. If the job description doesn't tell you who'll take the application, call the company directly. They'll appreciate your initiative!
These helpful tips can help make your transition from the college campus to corporate world seamless and stress-free.
Share This Page
---
Leave A Comment
You must be logged in to leave a comment. click here to login
Comments