---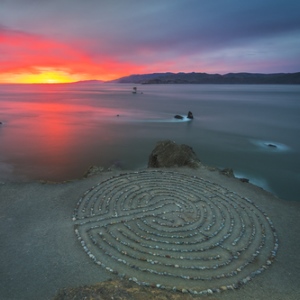 Life is a journey for everyone, but the path is rarely straight and narrow. Whether you're facing a significant challenge, you need clarity in the midst of a murky situation, or you need to reconnect with yourself and your true desires, the labyrinth serves an important purpose. Learn how this meditation tool works, and discover how the labyrinth can help you find yourself.
What the Labyrinth Does
At its core, a labyrinth is a contained path that has countless twists, turns, and unexpected developments. Unlike a maze, which is a sort of puzzle that demands a solution, a labyrinth has just one entrance and exit. Whether you're walking through this maze of pathways physically or mentally, your goal remains unchanged. Ultimately, you want to find your way to the center of the labyrinth and then return to your point of origin.
While a complicated labyrinth can turn into a strenuous physical journey, the real challenge is almost always cerebral. That's why many authentic psychics rely on the labyrinth as meditative tool. In a sense, this web of passageways leads you on a path toward internal discovery. As you ponder the path and its many twists and turns, you have the chance to learn so much about yourself and your own spiritual journey.
How to Walk the Labyrinth
In order to walk the labyrinth, you'll need to harness the power of your right brain. Prepare yourself to conjure up an image of a long, winding pathway, and approach the process with a thoughtful, introspective, or even creative frame of mind.
Start by imagining that ancient, mazelike symbol, and take your first brave step onto the path. As you make your way through the network of passages, it's always important to move forward. After all, stepping backward won't help you reach the center sooner, and it certainly won't speed up your journey toward self-discovery.
If you feel unsure about your progress, remember that the labyrinth has just one path. This single conduit invites you in to begin your meditation, and it also guides you to the center and back out into the world when your journey is complete.
What You'll Discover in the Labyrinth
As a metaphor for your journey through life, the labyrinth can help you determine where you're going. It can also help you discover your purpose in life and your place in the spiritual world. If you open yourself to the sensations, sights, and sounds that you encounter on your path, the labyrinth can open the door to additional personal discovery.
In most cases, you can guide your own path through the labyrinth. That means you can take a serious approach to affect a life-changing discovery or enter the labyrinth with a joyful perspective for a celebratory look at what you've accomplished and what's to come.
From internal discovery to spiritual journey, the labyrinth can reveal so much. Start down your own introspective path or chat with a psychic online to deepen your understanding of yourself and the world that pulsates around you.
Share This Page
---
Leave A Comment
You must be logged in to leave a comment. click here to login
Comments