Finding Peace with a Psychic Medium - Larry and Carol's Testimonial
Date 4/23/2020
Explore More: Psychic Medium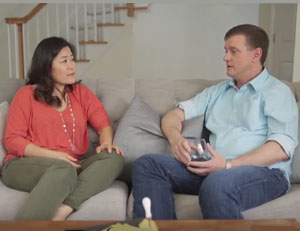 This is a real, self-written testimonial of a couple who, though a bit reluctant, took a chance with Psychic Source and were beyond surprised and impressed with their readings. We're so grateful that they were willing to share this incredible story.

It's been 12 years since Larry's mother died of ovarian cancer. It's been two years since my father passed away from a brain tumor. We felt like we wanted to try and reconnect with our departed parents but didn't really know how to go about it, so we turned to psychicsource.com.

As we embarked on this decision, we realized we had a lot of skepticism as to whether or not we would believe any of the psychic mediums. With low expectations and wishful hope, I went first and reached out to a psychic medium by asking if there was someone who had crossed over that wanted to connect with me. After asking my name, the psychic said she was sensing a hardworking male figure. She said this person had a really strong work ethic and a high moral code. She also said he had a strong belief system. I was nodding my head up and down on the other side of the phone as she was saying all these things that embodied my father. I told her it was my father. She said he wanted to communicate with me and in order to do that I should meditate. Strangely, I had recently started practicing meditation.

After a short pause, the psychic medium said she smelled a strong odor of urine and asked why she might be smelling this. During my father's last months of life, he became obsessed with going to the bathroom. He was constantly getting up all hours of the day and night to go to the bathroom. At one point, he had been catheterized and I distinctly remember the hospital aid emptying a very full bag of urine and it spilling onto the floor. At this point, I was very surprised and impressed with the psychic medium to have picked out such a specific detail. Because of this, I believed she had truly connected with my father.

She said my father was very proud of me and how appreciative he was of me being there for him towards the end of his life. She said he wanted me to know that I should not doubt anything I had done for his end-of-life care. He passed the way he wanted to pass and I did everything as it should have been done. She also wanted to relay a message that he had for my mother. Due to the stress of my father's illness, my parents fought a lot towards the end of his life. My father was strong-headed by nature. So, when the psychic told me despite all my parents' arguing, my father was not going to apologize for anything, I had to laugh at that statement because it was so typical of my father. He wanted me to relay to my mother that he thought the world of her even though he did not say it in life. The psychic medium said my father was not a demonstrative person, which is very true. In life, he wished he had been more communicative and wants me to take that lesson and make sure I am communicating with my spouse.

My husband, Larry, had a similar experience with his psychic medium connecting with his deceased mother. She was an immigrant from Ireland and grew up on a farm where Wellington boots were a staple. The psychic medium immediately honed-in on these specific boots by name. She also eerily described a wool spinning wheel that sat in Larry's mother's house in Ireland. Without knowing anything other than Larry's name, the psychic medium was able to express her connection to his mother by describing these things.

With the affirmation of these specific characteristics, circumstances, and situations we felt a sense of peace and closure. We are happy that we overcame our hesitation and used Psychic Source to reconnect with our loved ones. We highly recommend it for others that may be struggling and wanting to reconnect with someone who has crossed from life to death.