Ceremonies for Mourning Lost Loved Ones by Psychic Rowan
Date 5/30/2021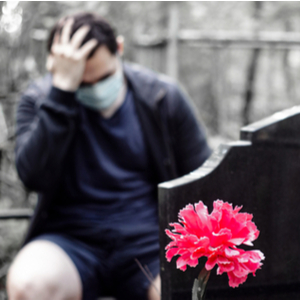 A note about this article: It was recently the one year anniversary of my husband's passing. I wanted to write an article as I am picking up on the energies of others who are coming up on their first painful marker of loss. It is my hope that these words may also reach someone who really needs to define the process of mourning. I know I had to really think about it for some time.

Since early 2020, the great majority of society has experienced loss of one sort of another. Perhaps it is the loss of a job, or a relationship ending; perhaps it was the loss of a loved one and for many it has been a year where we lost our sense of routine, comfort and stability. When this happens, we go through a process called grieving or sometimes DAGA which is an acronym for Denial, Anger, Grief and Acceptance.
This is not a set order of grieving but is a useful marker for us to identify the symptoms of grief and to allow ourselves to move through it by really feeling our feelings. We may bounce from one of these stages of grief to another in random orders and it may take some time to feel as if we are able to contain the emotion. That is where mourning can help us. Let us take a moment to understand the differences between grief and mourning.
Grieving vs. Mourning
Mourning is a more intimate process than grieving; whereas we can share our grief with others who are also experiencing loss, mourning is a deeply personal process. When we experience loss, we experience grief, but mourning is more a state of being and walks with the bereaved as a constant companion, in the early days of loss.
Mourning is what we do when we speak aloud to our dearly departed; mourning is placing flowers at the grave, or wearing a certain color, sackcloth or ashes. Customs vary from culture to culture. What do we do when we belong to a multicultural society, if we do not already have mourning activities handed down to us by tradition, family or culture? What if we (like many others this year) have not yet had the funeral or memorial service, electing to wait until travel and other restrictions are fully lifted? We might be forced to think outside the box and become creative about the mourning process.
Here are a few suggestions for those of us who are working through loss in a less than ideal and less than normal time.
The Crossing Ceremony
The Zulu tribal culture believes that a spirit needs help to understand that they have indeed crossed over, and that the mourning rituals of wearing black for one year, lamentations, visits to the gravesite and private grieving in a ceremonial setting at home all assist the spirit in comprehending their new state of being. A one-year time of mourning commences, and in this tradition, it is about helping the spirit to understand that it is a spirit in addition to being a vehicle for the mourning process for the living. When the one-year anniversary arrives, a Crossing Ceremony is performed. It celebrates the life of the departed and directs them to cross over to be with the ancestors. The action and ritual of mourning serves to comfort the living and assist those passed away, and at their Crossing they are well prepared to make their journey, as are the living prepared to rejoin society, having crossed out of the mourning period into the grieving process. In this sense, mourning has a very defined boundary, and is understood to be a time-honored process.
Angels Carrying
When we lose a loved one, we find ourselves wishing we could say certain things, or we have a thought that relates to them and would like to share with them. We suggest this as a yearly ceremony; whenever a thought or phrase comes to mind that reminds you of your loved one, write it on a note and collect all the notes into a jar (any mason or lidded glass jar will do). At a date that you find significant to the ceremony, take the notes and either release them into a stream, river, or burn them (being mindful of fire danger, please) and set an intention that the words will reach your loved one in their transformed state, be it by air, or being returned to the earth and nature. It is the intention that carries the prayers, and the messages. This can be tremendously comforting and cathartic particularly in cases when the passing of a loved one was very difficult, sudden or tragic. If you work with or believe in angels, you could invite them to participate and ask them to deliver your message directly.
Perform your own personalized Crossing for a loved one by gathering a few precious items, perhaps a photo, a memento and an item belonging to the departed, and an item belonging to you that is significant to your loved one. Choose a spot that is significant to the departed and create a space for your ceremony by blessing and protection of your choosing. Arrange the items in a way that they are visible to yourself and the spirit of your loved one, imagining that both of you are within the sacred space. At this point, close your eyes, say the words unsaid and bless the spirit of your loved one, encouraging them to join the ancestors in their own Crossing, allowing you both to move forward and begin the long road to healing.
In this space we create a bridge for the living and the departed, and its name is Mourning.
Setting a boundary for mourning activity helps us to keep emotion at bay when we must go about our lives amongst the world of the living and even the most basic of tasks can seem so difficult when we experience loss. By making mourning into a conscious activity, we can gently make conscious our feelings and honor them along with those who have left us too soon. We can work through our own deepest emotions, and work loose any old, stuck emotions. We can say the words we didn't say, send love we still hold for those we mourn, and bring ourselves comfort and compassion all at the same time.
May your loving words always reach your dearly departed' s ears.
Brightest blessings,
Rowan

Get a Reading with Rowan x3571
Rowan has over 30 years of experience in study of the hermetic sciences. She is a professional intuitive, certified hypnotherapist, ordained minister and energy worker. She specializes in walking others through their darkness, sharing her candle's flame.