You Are Exactly What We Need - Logan's Story from PAWS With A Cause
Published Date 4/17/2019
Category: Kindness
Psychic Source is pleased to share a story from PAWS With A Cause as part of our Kindness Program.

Find out how you can help support PAWS and our other deserving charities below.

Paws With A Cause®
met seven-year-old Logan and his family in 2009. Logan, who lives with autism, was a beautiful boy. But he struggled to communicate with the outside world and seemed immersed in his own reality; his own thoughts. Even more terrifying for his family, Logan would often run away without any fear of the unknown.

His parents searched for a solution, never giving up hope. They knew there had to be a way to bridge the gap between their world and Logan's. They knew there had to be a way to keep Logan safe.

PAWS® responded to their call for help with DENVER – PAWS' first Service Dog for Children With Autism (SDA) – and the impact he had on Logan was instant.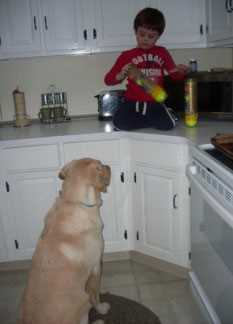 Tina, Logan's mother, had purchased two sleeves of tennis balls for DENVER to play with upon his arrival. She placed these on the kitchen counter and left the room. Logan, with the ingenuity of a seven-year-old, climbed onto the counter to get a tennis ball for DENVER.

Tina found herself overcome with emotion upon walking into this scene. Because, for the first time in his life, Logan had recognized and responded to the needs of someone else. She knew in this moment their lives were forever changed.

But life took an unexpected turn for Logan and his family when DENVER passed from cancer in 2016. "The loss to our family was more impactful than we could have imagined," shared Tina. "We had always known how important he [DENVER] was for Logan, but we had not realized just how much he had done for the rest of the family."

Their family struggled through the next year without DENVER. While it was true Logan was doing well in many aspects of life, and no longer needed a fully certified assistance dog, he still had a critical need for a PAWS Dog.

This sparked a new conversation at PAWS: how could PAWS meet the needs of SDA Clients later in life? PAWS and Logan found the answer in a golden retriever named MOCHA, the first SDA successor dog.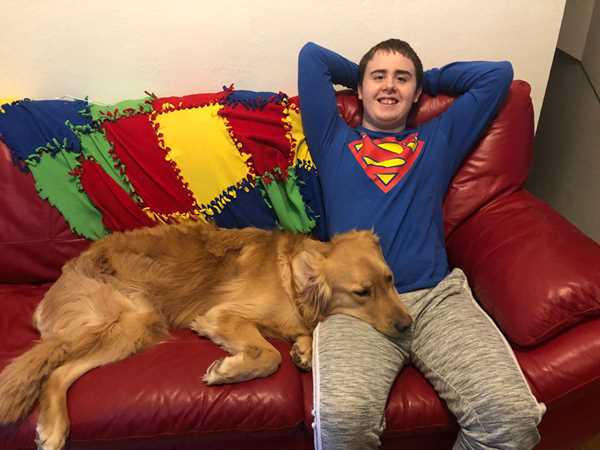 "His contributions to our lives are exactly what we all needed at this point in our life, yet so different than what we had experienced in the past with DENVER," explained Tina. "Although MOCHA will never replace the love we all have for DENVER, he brings something brand new and desperately needed to our family."

MOCHA is an amazing dog, but service dog work was not his calling. He had a different purpose in life. Unlike DENVER, whose job it was to respond to Logan, MOCHA continually engages him. MOCHA keeps Logan connected with the outside world.

"I truly believe MOCHA was always meant to be with us," shared Tina.

This is an exciting year for Paws With A Cause as we celebrate our 40th anniversary as an organization and the 10-year anniversary of our SDA program. We remain committed to placing the highest quality custom-trained assistance dogs with people with disabilities. And as we look ahead to the next 40 years, we continue to discuss how we can respond to the needs of both our community and our dogs.

We truly thank Psychic Source for your ongoing support of our mission. Our PAWS Dogs change lives every day, and your support makes this possible.

For 30 years, Psychic Source has been helping customers by providing wisdom and guidance to achieve their best selves. This got us thinking, "How can we do more to help society as a whole?" Together, we have the power to be part of something bigger. With your help, we can touch the lives of others across the globe.



Thank you for your compassion, gratitude and help making the world a better place.
Share This Page
---
Leave A Comment
You must be logged in to leave a comment. click here to login
Comments