Sharing Stories of Kindness
Date 1/2/2020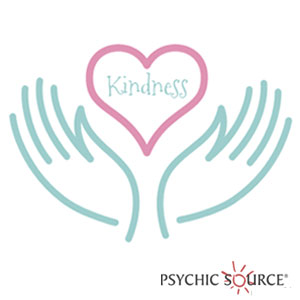 We get up every morning. We follow our routine; kids, partner, work, hobbies, and passions. We encounter others and we don't usually consider their impact on us, or our impact on them. But there is impact. Our words, our actions, our expressions... More often than not, we don't give them a second thought.

There are times, however, when we are deliberate. Offering words of support. Sending a card or note. Being present. Being KIND.
In January 2017, the Psychic Source Kindness Initiative was launched.
In its initial phase, the program is very simple; customers select a charity and Psychic Source donates 1% of that customer's purchases to the charity they selected. To date, our donations have resulted in:
Paws With A Cause®: Our donations have allowed PAWS to cover the cost for fostering, raising, housing, training, and placing two assistance dogs with persons in need.
National Center for Housing & Child Welfare: Our donations have helped the NCHCW to increase housing resources and to train professionals in systems such as child welfare to use public resources wisely to prevent family homelessness and to give every young person who ages out of foster care a head start on housing stability.
Futures Without Violence: FWV national resource center, Workplaces Respond, now features new resources for victims, co-workers, employers, and advocates to support, respond and shift workplace cultures related to sexual harassment.

Along with being able to support some wonderful organizations, the goal for the program is to raise awareness of the impact of being kind, whether it's through being active in volunteer programs, or simply being nice to others - people or animals or the environment. We can do this through community!
What is your story about Kindness?
Has someone said or done something for you that changed your state of mind, or left a lasting mark? Perhaps you've done something for someone else? Will you share your story?
It's easy to share your story.

Simply add your story, and a photo if you'd like, by visiting our
Sharing Stories of Kindness
page. You can read and leave comment on others' stories, too.

Help us build our community of kindness... one story at a time!