---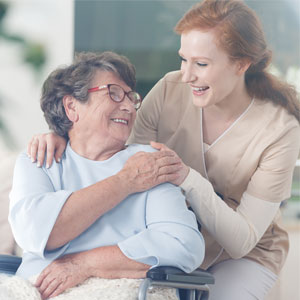 by Marion

As a Registered Nurse and single parent, I can recall many situations that blended both roles. I had taken my 15-year-old daughter and her friend to Florida on vacation. While waiting in the airport, I noticed an elderly gentleman trying to care for his wife in the wheelchair. As I approached, I could see her left-sided paralysis. His wife of 55 years had a massive stroke while vacationing in Florida. She was becoming agitated while trying to tell him she needed to go to the restroom. I introduced myself and offered to help. He seemed relieved that I could understand what she needed. I suggested he take a break in the restaurant while I took her to the lady's room.

Afterwards, I wheeled her back into the airport area, the gentleman could see us 10 feet away. I then combed her hair while he enjoyed his lunch. She had eaten her pureed diet prior to leaving the hospital. When my daughter and her friend arrived after shopping, they looked at me and laughed. "That's my Mom, always picking us strays."

Several years later, I walked into the restaurant my daughter was waitressing in. I caught her in the act of kindness. She was wheeling an elderly woman out to her car. She transferred the woman, placed the seat belt around her and shut the door so her husband could remain in the driver's side. She walked over to me and pronounced "I was always paying attention Mom. You're not the only one that picks up strays" and then we both laughed.

We'd love to read YOUR kindness story, big or small. Click HERE to share your story with us.


Share This Page
---
Leave A Comment
You must be logged in to leave a comment. click here to login
Comments