Paws With A Cause Provides More Than Just Assistance Dogs
Published Date 6/5/2017
Category: Kindness
---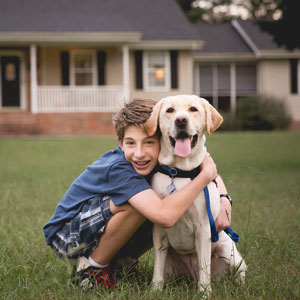 Since 1989, Psychic Source has been helping customers by providing wisdom and guidance to achieve their best selves. This got us thinking, "How can we do more to help society as a whole?" Together, we have the power to be part of something bigger. With your help, we can touch the lives of others across the globe.

Our community places a strong focus on positive outcomes, mental and emotional health, peace, child abuse, and animal welfare. To spread kindness to those who need it most, we're making a donation for every customer purchase. There is no additional cost to you. When you choose one of our pre-selected charities we will donate 1% of all your purchases to that charity.

One of those deserving charities is Paws With A Cause®. Read the touching tale of Samuel, a child with autism, who found a furry friend to love, learn and grow with.

Like so many children with disabilities, it took time for Samuel to get the right diagnosis. "Sometimes the signs are hard to read," explains Samuel's mom, Suzanna. "I'm sad to say that for a long time I thought Samuel was just being defiant when he struggled to control himself or wouldn't meet my eyes when I talked to him. I didn't know better then."

Initially, doctors said Samuel had Attention Deficit Hyperactivity Disorder. But that diagnosis didn't explain his sensitivity to loud noises or lack of awareness of others around him. Samuel was six before Suzanna and her husband Mike learned their son also had an Autism Spectrum Disorder.

At that time, Mike was on active military duty, so Suzanna took responsibility for getting Samuel the therapeutic interventions he needed head on. They moved to be closer to family and to an area abundant with services for children with autism.

Even though Samuel was enrolled in school and several therapy programs, something was still missing. He remained prone to meltdowns. While Samuel had good verbal ability, his social skills lagged. He got stuck in his own head, not paying attention or fully engaging with those around him. His parents believed they could do more to help Samuel flourish.

And that's where PAWS® came in.

Suzanna applied for a PAWS Dog while our Service Dogs for Children with Autism (SDA) program was still in its infancy. Samuel was accepted into our pilot group and he received PAWS Dog NUGGET in 2011.

The whole family loved NUGGET and for several months, all was well. Unfortunately, as sometimes happens, NUGGET developed significant allergies that required ongoing treatment. Suzanna and Mike talked with Samuel and together they made the gut wrenching decision to return NUGGET to PAWS and wait to be matched with another SDA Dog.

"I will always be grateful to NUGGET," Suzanna notes. "Before her, Samuel didn't show emotions the same way other children did. I think learning to take care of her, having to think about her needs — they bonded so quickly — shifted something in him. When we decided to send her back, I noticed Samuel making a funny face and asked him what was wrong. He said that he knew he was supposed to be sad and was trying to cry. It was the first time I'd seen him show empathy. It may sound odd, but I consider that a real gift."

Thankfully, it wasn't long before we were able to place PAWS Dog FLASH with Samuel. The two have been a team for three years now. In that time, his parents have watched the bond between Samuel and FLASH grow.

"As Samuel has gotten older, his autism expresses differently. Samuel is more anxious than he used to be, and FLASH helps with that tremendously. Often Samuel will just want FLASH nearby while he plays a video game or reads in his room — that companionship and being able to reach over and pet FLASH are comforting. Now that Samuel is in middle school, FLASH is becoming his confidante. I sometimes overhear snippets of conversation," Suzanna admits. "I think Samuel knows he can tell FLASH anything without being judged."

To everyone who helps make PAWS Teams like Samuel and FLASH possible, thank you! Suzanna shares, "We can't thank you enough for giving FLASH to Samuel to love, learn from and grow with. You've changed our lives." It's because of you that people with disabilities are increasing their independence and families are growing stronger.

More About PAWS With A Cause:
1.
PAWS served 432 clients in 35 states last year
2.
PAWS estimates that it costs $30,000 to breed, raise, train and place an Assistance Dog with a client and offer lifetime support to the team
3.
PAWS has nearly 300 PAWS Dog Volunteers
4.
82 cents of every dollar goes towards PAWS' mission
5.
78% of their revenue comes from individual contributors

Thank you for your compassion, gratitude and help making the world a better place.
Share This Page
---
Leave A Comment
You must be logged in to leave a comment. click here to login
Comments