NCHCW - The Foster Youth to Independence Initiative Program
Date 6/26/2021


Psychic Source is proud to share a message from Ruth Anne White, the Executive Director of The National Center for Housing & Child Welfare. Find out how you can help support the NCHCW and our other deserving charities below.
Each year, more than 18,000 foster youth reach adulthood alone, having not been adopted nor returned home to their biological families. As if that is not difficult enough, over a quarter of these young people experience homelessness within a year of leaving the system. With support from the Kindness Initiative the National Center for Housing and Child Welfare has been able to work alongside foster youth to bring an end homelessness for youth leaving foster care.
Foster youth, NCHCW and staff from the US Department of Housing and Urban Development (HUD) worked together over the past three years to write the "Foster Youth to Independence Initiative" which will provide housing and services to every young person leaving care who is at risk of homelessness. Since FYI started in July 2019, the program has more than doubled in size with more than 1,300 youth who have received their own apartments along with services to help them achieve self-sufficiency through work and school.
The youth who participated in this advocacy never miss an opportunity to express their appreciation for all the folks along the way that made this accomplishment possible. This includes the numerous donors from the Psychic Source Kindness Initiative who have contributed along the way. Recently, foster youth from ACTION Ohio and NCHCW nominated the lead staff from HUD for a prestigious national award called the "Service to America Medal." We learned on May 2, 2021 that the HUD team has been selected as finalists (read about the HUD FYI Team here).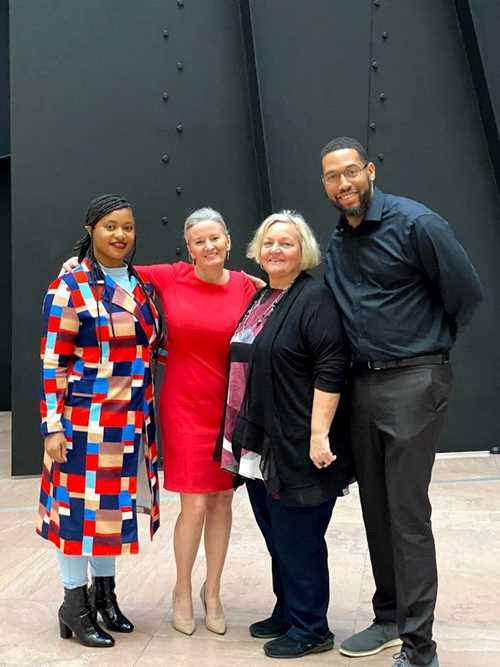 Adaora Onuora (Bowie State University), Ruth White (NCHCW), Doris Edelmann (ACTION Ohio), Jamole Callahan (NCHCW), visiting Washington, DC to improve housing options for children and youth in foster care. February 2020. (Photo Credit: Jonathan Thomas)
One of the young people who helped to write the nomination letter is Adaora Onuora (seen above). You can watch a video about Adaora here. Adaora is a participant in FYI. After losing her mother at age 14, Adaora entered foster care and faced an uncertain future and homelessness upon aging out. Shortly before emancipating from foster care, Adaora enrolled in FYI, moved into her own apartment, and maintained employment all along the way. In December 2020, Adaora graduated Bowie State University with a double major in communications and criminal justice while two jobs, including driving the Amazon Sprinter van delivering packages for the holidays!
In addition to all of that, she has spent a year and a half working with NCHCW doing national webinars and various other speaking engagements to help raise awareness so that other youth would benefit from FYI. All of Adaora's work with NCHCW was supported by the Kindness Initiative.
FYI also includes a robust savings and homeownership counseling program as well. And no one sets a better example for her peers than Adaora who is due to purchase her own home in 2023. Our work with Adaora and all of the FYI youth throughout the US would not be possible without the thoughtful contributions of the Psychic Source Kindness Initiative. Together we won't just end homelessness – we will help young people build wealth and strong futures.
For 30 years, Psychic Source has been helping customers by providing wisdom and guidance to achieve their best selves. This got us thinking, "How can we do more to help society as a whole?" Together, we have the power to be part of something bigger. With your help, we can touch the lives of others across the globe.


Thank you for your compassion, gratitude and help making the world a better place.