National Center for Housing and Child Welfare - Helping Keep Families Together and Safe
Published Date 12/20/2017
Category: Kindness
---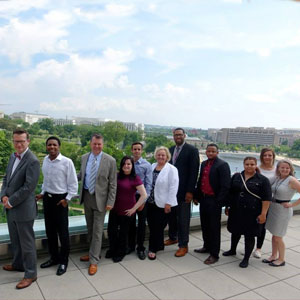 "The National Center for Housing and Child Welfare has been very supportive to all of us and has always encouraged us to continue to speak up on Capitol Hill and back home for affordable housing and resources. NCHCW shows us that we can overcome anything and that being hardworking does pay off. KEEP BELIEVING IN US #NOTHINGABOUTUSWITHOUTUS!"

– Dominique J. (Former foster youth, Foster Youth in Action Member, Cleveland, OH)
As the holiday season and colder weather are upon us, many of us naturally begin to wonder how we can help our neighbors, particularly those who are homeless. This year, these efforts to help our neighbors might be more important than ever before. In November,
The Chapin Hall Center for Children
issued a report estimating that 3.5 million, or one in ten, young adults experienced homelessness in 2017. Nearly half of these young people aged out of America's foster care system into homelessness. It is also the case that the fastest growing group experiencing homelessness is families with children. These figures are staggering and, indeed, a call to action.

The good news is that when communities have flexible resources and the attention of government officials, our neighbors can find safe, decent housing and the right services to maintain stability.
The
National Center for Housing and Child Welfare
(NCHCW) works to ensure that communities have enough emergency services and permanent housing resources by bringing young people and parents who have experienced homelessness to meet directly with policy makers to share their personal stories and design strategies that prevent and end homelessness. NCHCW also works directly with professionals to train them how to prepare youth and families for housing stability and to make the best use government resources to fund permanent housing and supportive services to end homelessness.

Throughout the year, we sponsor foster youth and arrange for them to share their stories and ideas for improvements with policy makers in Washington, DC. Their heartbreaking and often uplifting narratives have an amazing impact. For example, this year, Congress added $30 million for new permanent housing subsidies for 2,500 families and 500 young adults. Additionally, the young people worked with Rep. Mike Turner (R-OH) and Rep. Karen Bass (D-CA) to design and introduce the Fostering Housing Opportunities Act of 2017 which will ease access to permanent housing for all youth leaving foster care.
Our unique work to support the voices of homeless youth and parents has been made possible by the
Psychic Source Kindness Program
. In 2018, in the face of rapidly growing homelessness, with your support, we will accelerate the pace of our work to increase housing resources and to train professionals in systems such as child welfare to use public resources wisely to prevent family homelessness and to give every young person who ages out of foster care a head start on housing stability. Together, we can keep families together and safe and ensure that all young people leaving foster care have affordable housing and a platform for success all year long.

Psychic Source's number one goal for almost 30 years has been to help individuals become the best version of themselves, with mental and emotional health, peace, child abuse, and animal welfare at the forefront. To reach a larger audience and make an impact worldwide, we developed the Psychic Source Kindness Program. With no additional cost to customers, we donate 1% of all purchases to the pre-selected charity of their choice.

Learn more about the Psychic Source Kindness Program and the great charities you can help support with your purchases.

Thank you for your compassion, gratitude and help making the world a better place.
Share This Page
---
Leave A Comment
You must be logged in to leave a comment. click here to login
Comments